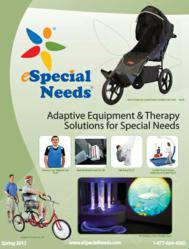 We are very excited about our Spring 2012 catalog and think customers, new and existing, will be pleased with the additions.
St. Louis, Missouri (PRWEB) May 09, 2012
eSpecial Needs strives to meet the demand of the special needs community by offering new, top-of-the-line adaptive equipment for adults and children with special needs and their caregivers. These products are available and featured in the company's new Spring 2012 full-color catalog. Among the product additions are the full line of Rifton activity chairs, broader selection of adaptive tricycles, full support swing seats and swings, and more weighted products.
"The special needs community has come a long way since we opened eSpecial Needs in 2002 and so have the products," said Scott Kouri, sales manager of eSpecial Needs. "When we started, parents were relying on school districts for therapeutic devices, which is very limiting and frustrating for a parent, especially when so much learning and therapy for special needs children is done outside of the classroom and must be reinforced at home."
eSpecial Need's mission is to make life easier for parents, more enriching for children and more enjoyable for the entire family. The addition of high quality special needs equipment, toys and learning aids reflects this mission. The company now carries small, medium and large Rifton activity chairs and seating systems with many optional accessories enabling children to actively participate in activities, tasks and routines. Our Vibro-Tactile Sensory Corner and Indoor Therapy Gym are also product additions that provide great environments for play.
"We are very excited about our Spring 2012 catalog and think customers, new and existing, will be pleased with the additions. We actively seek customer feedback on our existing lines and products our clients would like to see, so when they say they want more weighted products we listened and created our Sensory Hugs line of deep pressure vests, weighted vests and lap pads," said Scott Kouri.
In addition to new products, eSpecial Needs has added an e-layaway program for customers that purchase over $300 in merchandise to break down the order's purchase price over 2 to 6 monthly payments. The layaway program can be completed online, making it easy to budget for holidays, birthdays and large ticket item products.
"Our approach to customer service has always been very simple and concise," said Scott Kouri. "Treat the customer with the same courtesy and helpfulness that we would each expect for ourselves if in the same position. Unlike many large call centers for special needs products, we will actually take time to listen to the customer to find out more about their situation and make recommendations that can be beneficial not just for the user but for the parent or caregiver as well. With many customers I have personally worked with, they sometimes need to have someone listen to know that they are not alone out there, especially with families of children who have been recently diagnosed and are overwhelmed."
While the new Spring 2012 catalog features popular and new products, all products and extensive product lines are available online to view and purchase at http://www.especialneeds.com. The Spring 2012 catalog can also be viewed and requested online through eCatlalog allowing customers to virtually flip through the catalog on the computer. Contact an eSpecial Needs' sales representative at 877-664-4565 that constantly work with clients in the greater St. Louis area providing special needs equipment and in-home assessments.
About eSpecial Needs
eSpecial Needs is a leading distributor of adaptive equipment, rehab equipment and therapy solutions for children and adults with special needs. Headquartered in St. Louis, Missouri, the company opened in 2002 by Carrie Kouri after her son was diagnosed with autism in 1999. eSpecial Needs works with clinics, government agencies, school districts, charities, and families in providing the best selection of adaptive equipment, rehab equipment and therapy solutions for special needs children, adults and their caregivers. The company is a provider to the state of Missouri for Medicaid Waiver programs and works with agencies including Missouri First Steps, St. Louis Regional Center and Productive Living Board (PLB) to service all their clients. eSpecial Needs is also an approved provider for Medicaid Waivers for Illinois. In addition to the many schools and healthcare facilities, eSpecial Needs also works closely with many national and local charities including holding corporate sponsorship with the Make-A-Wish Foundation. eSpecial Needs operates a full service e-commerce website for people to view and purchase its full product offering and learn more about specials and promotions at http://www.especialneeds.com or contact eSpecial Needs directly at 877-664-4565.