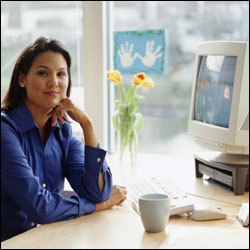 I still need more healthy rest in order to work at my best. My health is the main capital I have, and I want to administer it intelligently.
Norwalk, CT (PRWEB) July 24, 2007
Ernest Hemingway once said, "I still need more healthy rest in order to work at my best. My health is the main capital I have, and I want to administer it intelligently."
Adaptive Marketing LLC, an industry leader in online membership programs, heartily echoes that sentiment and encourages members of the American workforce to find their own comfortable middle ground between work and the other parts of their lives.
The age-old battle between working to live and living to work shows no signs of abating. Even as overall U.S. productivity grows, the rewards of these gains are increasingly going to the upper class in our society rather than to the workers responsible for this growth, notes Adaptive Marketing. Such a climate often creates pressure on employees to put in more time at work in order to set themselves apart from their co-workers. Unfortunately, as the old proverb says, "All work and no play makes Jack a dull boy."
Dull is certainly no way to go through life, so Adaptive Marketing offers a few tips on how to balance a work life with a home life:

All you can do is all you can do. Be realistic about what you can accomplish in the course of a day or week. Set achievable goals -- and deadlines -- and reward yourself for reaching them by leaving work at a reasonable hour. If you're constantly working 14-hour days, you might be setting the bar too high, either on your promises or on your abilities.
Do more with less. Less time, that is. Create an efficient workflow process that helps you focus your energies where they're needed, without distraction or interruption. If necessary, take a course in time management to learn where your inefficiencies may be. The sprint races may go to the swiftest, but marathons tend to favor those who use their resources most efficiently -- and for the vast majority of us, our professional careers will be marathons.
Take mini-holidays. Progressive companies encourage short (15-minute) breaks during the day, which allow employees to relieve stress, clear their minds and come back to the task at hand with renewed vigor. Even a short stroll outside on a sunny day can offer a refreshing little pick-me-up to an otherwise difficult work stretch.
Go dark after work. Cellphones, BlackBerries and the like have made it possible to stay connected 24/7, but they haven't made it mandatory. Even if you're in a high-stress job that makes you feel obligated to be available around the clock, you're entitled to some personal time. If need be, announce to your co-workers that you'll be unavailable for a few hours after work, then …
Take time for yourself, your family and your friends. As so many others have said, no one complains on their deathbed that they didn't spend enough time at work. Life moves too fast -- even when you're not having fun -- to neglect those parts of your life that bring you joy. Your work will be there in the morning; your daughter's track meet, your son's Little League game, your spouse's good mood, and your friend's birthday celebration won't be.
Business pressures will always make it difficult to find the right balance between work and the rest of your life, but a happy life is a well-rounded life, so you need to make every effort to find that balance, reports Adaptive Marketing.
About Adaptive Marketing LLC:
Adaptive Marketing LLC is a leading provider of membership discount programs. Headquartered in Stamford, Conn., Adaptive Marketing is a category leader in membership programs, bringing value direct to consumers through an array of benefits in healthcare, discounts, security, personal property and personals. Visit AdaptiveMarketing.com to find out more information about Adaptive Marketing.
###