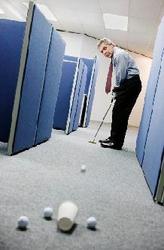 Norwalk, Conn. (PRWEB) March 27, 2008
March Madness usually starts the outbreak, quickly followed by the opening day of trout season in various locales, then the unofficial launch of the golf season. Pretty soon, notes Adaptive Marketing LLC, an industry leader in membership programs, spring fever is in full bloom, complete with talk of gardening, early tanlines, and that perennial fancy of young men, love.
Far be it from Adaptive Marketing to even suggest tamping down on love and its various offshoots. Still, in the restricted social setting of a workplace, spring fever can serve to distract from the main focus: business productivity. In the interest of strengthening communications across the company, Adaptive Marketing suggests a few ways for employers to turn spring fever into a team-building exercise:
-- Drive for show, putt for dough. Divide the office into interdepartmental teams of four, and stage a miniature golf tournament at a local layout. Award prizes (a free meal at the concession stand for a hole-in-one?), and give the winning team an early start to their weekend.
-- Feed the world. Or at least the office. Organize a potluck lunch by asking employees to bring in their favorite dishes. Hold the lunch outside to soak up those vital vitamin D nutrients that sunlight provides. Extend the lunch hour to let people get to know one another better in a relaxed setting.
-- Take them into the alley. Again, break up the office into teams of four, and let them go at it in a bowling tournament. The perfect antidote to a rainy spring day, an afternoon of bowling offers loads of laughs in a very casual atmosphere.
-- Run them into the wall. If there's a go-cart track nearby, a day (or afternoon) at the races can help workers pursue their NASCAR dreams in a controlled environment -- and it's seriously fun. For a nominal fee, employees can zip around a small track for a couple hours and even take turns t-boning the boss.
-- Let's all go to the movies. An afternoon in a darkened theatre with a bucket of popcorn and a thriller/comedy/chick flick/whatever (leave it up to the individual employee) unspooling on the big screen can help create a common bond between employees.
The common thread weaving throughout these activities, of course, is communication, finding ways to enhance the dialogue between employees and between departments. However you choose to do it, redirecting spring's feverish activities toward improved productivity in the office is a goal worthy of pursuit, reports Adaptive Marketing.
About Adaptive Marketing LLC
Adaptive Marketing LLC is a leading provider of membership discount programs. Headquartered in Norwalk, Conn., Adaptive Marketing is a category leader in membership programs, bringing value direct to consumers through an array of benefits in healthcare, discounts, security, personal property and personals. Visit AdaptiveMarketing.com to find out more information about Adaptive Marketing LLC.
###