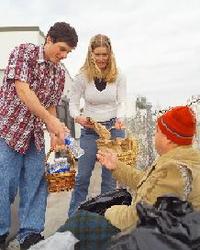 Norwalk, CT (PRWEB) March 10, 2008
Willpower is a strong force that can only make the world a better place if all human beings decide to use it for a good cause, reports Adaptive Marketing LLC, an industry leader in membership programs. From doing a small, good deed every day to making a regular donation to charity, giving back to the community is definitely more than a trendy thing to do. It's about making a difference.
Some people believe that only the ultra-rich have the means to donate their time or money to a cause, but that's simply not true. You don't have to be as wealthy as Bill and Melinda Gates to share your time or knowledge and make a difference in someone's life. Any altruistic attitude, from rescuing a pet from a shelter to donating a percentage of one's salary to a soup kitchen, will have a positive effect on the community.
Some do it because of their religious beliefs, others because they believe in karma, and still others because they think it's only fair to share the wealth. What really matter are actions, which always speak louder than words. Here are some action-oriented ideas for giving back, offered by Adaptive Marketing LLC:
-- Just help. In these capitalist times, people assume they need to pay for everything, so lending a hand to someone when least expected can make a meaningful difference. Help out a friend who's moving, or offer to baby-sit so your sister and her husband can have a night out. It's the little things that make a friendship and demonstrate love.
-- Volunteer. Giving time is as important as giving money. In many cases, it's even more valuable. The best volunteering involves the desire to serve others, and it's more rewarding and fulfilling when it's done without expecting anything in return. Explore activities and causes you feel passionate about, figure out how and when you can offer your help, and make a commitment.
-- Mentor a nonprofit. Anyone can use his or her talents to make a difference, and entrepreneurs especially can contribute real business skills to nonprofit organizations. Choose one that works on a cause you believe in, and become a business mentor. Your experience can help their programs function more efficiently and reach more people.
-- Join a community organization. Contributing to community sustainability is a great way to improve the quality of life throughout the area. Get involved in the issues that make the entire community more prosperous.
-- Donate money. Even a small amount can make a significant change. Choose a charity that's right for you, and request written information that includes their mission and activities. This will give you a better sense of how your money will be used. And remember, some donations are tax-deductible.
There are numerous volunteering opportunities as well as other ways to lend a hand to those who need one. All it takes is the desire to look beyond oneself, reports Adaptive Marketing LLC.
About Adaptive Marketing LLC
Adaptive Marketing LLC is a leading provider of membership discount programs. Headquartered in Norwalk, Conn., Adaptive Marketing is a category leader in membership programs, bringing value direct to consumers through an array of benefits in healthcare, discounts, security, personal property and personals. Visit AdaptiveMarketing.com to find out more information about Adaptive Marketing LLC.
###