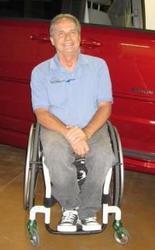 Dennis is uniquely qualified to serve his customers with his many years of experience working for a durable medical equipment company and an automotive mobility company
Denver, CO (Vocus) September 3, 2010
Dennis Bossman joined the Adaptive AutoMobility team in Denver, Colorado. Dennis has a well-earned reputation in the community for excellence in customer service and expertise in the application of adaptive equipment in all types of vehicles.
Dennis has been a wheelchair user for the last 26 years and is an invaluable asset in understanding the needs and wants of the disabled community. Dennis' job entails working with customers, driver trainers, therapists, families and third party payers providing appropriate adaptive equipment to meet the transportation needs of disabled clients.
"Dennis is uniquely qualified to serve his customers with his many years of experience working for a durable medical equipment company and an automotive mobility company," Kevin Durban of Adaptive AutoMobility said.
Before joining the Adaptive AutoMobility team, Dennis worked at a durable medical equipment company for nine years, fitting and supplying manual and power wheelchairs and other equipment for users. In 2003, he ventured into the wheelchair van business and leveraged his considerable knowledge of wheelchairs to help people get the best solution for their vehicle needs.
"The high end rehab training/wheelchair sales experience from my previous employment has helped with understanding the complete fitting process of matching the proper chair to the person and the best combination of the person with their chair to van needs," Dennis said. "It's like a puzzle with people and wheeled mobility. It can be a juggling act sometimes, pleasing all parties concerned with the purchase of a van and/or other adaptive equipment."
About Adaptive AutoMobility:
To find out more about Adaptive AutoMobility of Denver, Colorado, visit the company at http://www.AdaptiveAuto.com/. Adaptive AutoMobility has a 21 year history of providing handicapped individuals with custom mobility solutions to meet their transportation needs.
###