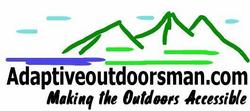 After talking and thinking about this, we decided that this was a business perfect for us.
Dublin, OH (PRWEB) June 4, 2008
A husband's love of the outdoors and his wife's passion for helping others is the recipe for an extraordinary Web site, which features adaptive hunting and fishing equipment for people with disabilities.
AdaptiveOutdoorsman.com "was fate," said Renee Error, president of the company that she and her husband, Mike, launched recently. It's also the couple's first venture in e-commerce.
The inspiration for the company (http://adaptiveoutdoorsman.com/index.html) belongs to a 16-year-old boy with muscular dystrophy - the nephew of a friend of Mike Error, vice president of AdaptiveOutdoorsman.com.
"He would sit in his home at this huge picture window and watch the deer. And one of his wishes was to go deer hunting," recalled Error. So Mike Error and his close friend, the teenager's uncle, decided to take the youth hunting.
After struggling to get the teenager and his wheelchair to a suitable hunting site, they quickly discovered the youth had too little strength in his arms to hold a rifle.
"They tried several methods and none of them worked," Renee Error explained. "And that's what got us thinking."
A search of the Internet revealed lots of small businesses, and some not so small, manufacturing adaptive gear - some of it better than others. But one thing missing altogether, she said, was a place to go "one-stop shopping."
"After talking and thinking about this, we decided that this was a business perfect for us." It fit well with her husband's love of hunting and fishing, and the outdoors, she said. And for her, a stay-at-home Mom for many years, and an avid school and community volunteer, it was an ideal way of helping others.
The couple did a trial launch of their Web site to test the waters and the results were gratifying for them, as well as for those who bought products from them.
Renee Error has heard from people as far away as Georgia and Texas, including a right-arm amputee who gave up fishing until he learned of the Web site and purchased an adaptive harness that allows him to fish again.
Many of their customers, Error said, had abandoned fishing or hunting because of their disability. They either had no idea that adaptive equipment was available or they didn't know where to look, she said.
AdaptiveOutdoorsman.com features dozens of pieces of adaptive gear and Renee Error said she and her husband are constantly searching for more equipment to place on their site.
In addition to helping outdoor enthusiasts with disabilities, she said she believes the Web site may help small manufacturers with great products.
Unfortunately, some of those manufacturers close shop after a year or so because they don't know how to market themselves. AdaptiveOutdoorsman.com, she said, can help them too, by providing a marketing venue.
Contact information
Renee Error
AdaptiveOutdoorsman
http://adaptiveoutdoorsman.com
614-923-9668
About AdaptiveOutdoorsman.com
Based in Dublin, OH, the Web site offers a growing selection of adaptive equipment to help people with disabilities to enjoy fishing, hunting and outdoor activities. Owners Renee and Mike Error review all products before they are placed on their Web site.
"Our belief is that anyone who wants to hunt, fish or camp should be able to, whether they are physically disabled or not," according to Renee Error, company president.
Making the outdoors accessible.
###