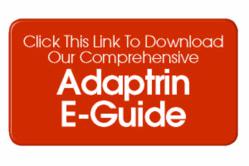 Go to our website to download your Comprehensive Adaptrin E-Guide @ www.adaptrin.com
Staten Island, New York (PRWEB) June 19, 2013
Adaptrin® announced today details of how its scientifically proven, all natural Tibetan herbal supplement, promotes cardiovascular health in both men and women. While baby aspirin is often advised for patients at risk for cardiovascular disease, Adaptrin® can offer similar long-term benefits for cardiovascular health, all of which are supported by both long standing traditions and clinical studies.
Adaptrin®, a combination of all-natural herbs and minerals, has been shown in studies to nutritionally aid people with peripheral arterial disease by reducing pain and improving their ability to walk. The all-natural supplement draws from the tenets of Tibetan medicine to promote wellness and counter diseases which come from long-standing abuses to the body. According to Tibetan healing approaches, these abuses need to be reversed gradually and over extended period of time. The all-natural herbs in Adaptrin® act as a support system for the body's natural defenses against disease, while aiding digestion, which according to Tibetan understanding, often contributes to disease process.
"The more that we find out about the mechanisms of chronic disease, the more we realize the relevance to Tibetan medicine in modern health," said Dr. Vladimir Badmaev, whose family developed the Adaptrin® formula. "Many of our chronic conditions and age-related health problems are tied to chronic (lingering) inflammation and stresses on the body that tax the cardiovascular system, immune system and metabolism. Adaptrin® helps to protect the body's internal antioxidants (glutathione, catalase and superoxide dismutase) supported by healing herbs that target free radicals by disabling existing free radicals and preventing new free radical formation that harm the body – the so-called bioprotectant action."
Adaptrin® has shown no significant adverse side effects. That property may stem from unique and time proven combination of ingredients. None of the ingredients are in a pharmacological dose, but they work in a synergistic combination of three groups of ingredients to achieve a health benefit. (For more information, please visit our website and download our Comprehensive Adaptrin E-Guide at http://www.adaptrin.com)
Adaptrin® is one of the most researched and clinically tested traditional multi-component formulae known (Tibetan Medicine. Badmaev, V. 1999 (May). In a book titled: Essentials of Complementary and Alternative Medicine by Wayne B. Jonas and Jeffrey S. Levin; published by Lippincott Williams & Wilkins. ISBN: 0-683-30674-X: 604. Amazon.com). Studies validate that Adaptrin® plays an adaptogenic/bioprotectant role by safeguarding the integrity of live cells against stress, and helping fulfill cell's physiological potential and prevent premature wear-tear and aging. Clinical studies done on several study populations have shown a nutritional benefit in improving the function of patients with peripheral artery disease, a condition where blood flow is impaired to the extremities and tissues, leading to pain and decreased function.
ABOUT ADAPTRIN®
Adaptrin® is a unique proprietary botanical adaptogen/bioprotectant (Badmaev, V, Majeed, M. Adaptogens and bioprotectants. Nutrition Science News. 1995) product. It is formulated on the principles of Tibetan medicine and is designed to regulate, normalize, and support the healthy cardiovascular and immune systems in men and women, providing a platform for healthy living, healing and optimal aging.* Adaptrin® helps people to feel better and have all around increased qualities of life.
Consumers will not find Adaptrin® in any vitamin store, retail health food location, or any typical place to buy vitamins. Adaptrin® can only be found on http://www.adaptrin.com.
•These statements have not been evaluated by the U.S. FDA. This product is not intended to diagnose, treat, cure or prevent any disease.