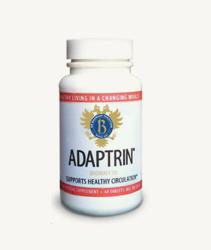 The mission of Adaptrin in the body is to promote healing and gradual recovery from chronic inflammation, which is a different process from an acute inflammation involving pain, redness and swelling.
Staten Island, NY (PRWEB) May 15, 2013
Adaptrin®, a scientifically proven, all-natural herbal supplement drawing from traditional Tibetan medicine announced today, after its re-release this month, that it uses its 21 different herbs and minerals to serve as a bioprotectant that alleviates stress on the body. Adaptrin's bioprotectant ingredients prevent wear and tear damage to the body's cells and tissues, and the resulting premature aging, inflammation and disease.
"Tibetan herbal pharmacology has been developed during the course of a long-standing history of Tibetan medicine based on principle of providing 'condensed food' as a supplement that nourishes the body and its systems," said Dr. Vladimir Badmaev, developer of Adaptrin®, whose family was instrumental in bringing Tibetan medical traditions to the West.
Dr. Badmaev continues, "The mission of Adaptrin® in the body is to promote healing and gradual recovery from chronic inflammation, which is a different process from an acute inflammation involving pain, redness and swelling. It takes time to heal properly and recover from the long-standing process of chronic inflammation. Although Adaptrin® can bring appreciable results within a couple of weeks, this all natural herbal healing process can be accomplished in months and then require the continued maintenance dose to keep our body in good standing. The gradual process of recovery and optimal health is one of the leading principles in Tibetan medicine. For those who are disinclined to a long-term intake of Adaptrin® and want immediate gratification of results; basically those who are impatient, it is relevant to mention the healthy practice of taking "baby" aspirin, (i.e. 81mg aspirin per day for life by people at risk of developing cardiovascular disease). As we know, taking "baby" aspirin is grounded in sound and long-term research showing the beneficial health effects of small doses of aspirin where results are not experiential or obvious in the course of years of intake. However statistical evidence shows that long-term daily use of the small amount of aspirin prevents disability, saves lives and provides added years of quality life due to the prevention of cardiovascular disease, a major cause of morbidity and mortality in the West."
Adaptrin® has been shown in published clinical studies to improve cardiovascular function in both men and women, specifically in the treatment of peripheral artery disease, a condition that causes pain or numbness in the extremities from impeded blood flow. Adaptrin's® combination of herbs and minerals promote energy circulation, improves blood vessel elasticity, function, and ultimately blood delivery to the tissues. In a study of mental performance and emotional well-being in patients with a median age of 59, nearly all who used Adaptrin during a six-month period said they had improvements in memory, mental clarity and orientation, energy and alertness, sleep, mental attitude and well-being.
Additionally, the improvement of digestion with the help of the all-natural herbal ingredients of the formula is a hallmark of Tibetan medicine, which believes that most of disease conditions occur over an extended period of time and originate in a dysfunctional digestive tract and with unbalanced body nourishment. Peer-review published studies showed no adverse side effects from the use of Adaptrin®, which is also known as No. 28 in those studies.
Dr. Vladimir Badmaev's family was instrumental in bringing the tenets of Tibetan medicine to the West, including the translation of the "Four Roots" Tibetan medicine textbook into Russian and the establishment of Tibetan pharmacies in Russia and Poland. In 1984, Dr. Vladimir Badmaev, Jr. established the U.S. based Badmaev Natural Drug Foundation and recently American Medical Holdings Inc. to continue the family tradition.
About Adaptrin®
Adaptrin® is a unique proprietary botanical bioprotectant (Badmaev, V, Majeed, M. Adaptogens and bioprotectants. Nutrition Science News. 1995) product. It is formulated on the principles of Tibetan medicine and is designed to regulate, normalize, and support the healthy cardiovascular and immune systems in men and women, providing a platform for healthy living and optimal aging.*
*These statements have not been evaluated by the U.S. FDA. This product is not intended to diagnose, treat, cure or prevent any disease.