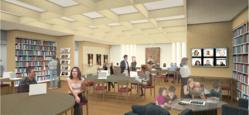 With this Renewal, we are poised to become not just a synagogue for programs, services, and religious schools but a true Spiritual Jewish Community." -Senior Rabbi Gil Steinlauf
Washington, DC (PRWEB) September 11, 2012
Adas Israel Congregation, the oldest and largest Conservative Synagogue in Washington, DC, announces the October 14 launch of a historic renovation project for its landmark mid-century building, led by renowned architect Hugh Hardy and H3 Collaboration Architecture. The transformation of four major worship and activity spaces is the keystone of Adas Israel's "Vision of Renewal." This Vision initiative will strengthen the 143 year old institution's capacity to meet its membership's diverse spiritual, intellectual, and social needs and serve the broader Jewish community.
"The landscape of Jewish life is changing rapidly and Adas Israel sits at the crossroads of those changes," says Adas Israel Senior Rabbi Gil Steinlauf. "With a significant historic legacy and bright future, we are acting to renovate our building to match the dynamism of our congregation. Our leadership and our generous members have allowed us to create a breathtaking space for new generations while preserving and celebrating all the generations that are already represented here."
Adas Israel was established in 1869 by a group of European immigrants who sought to maintain traditional Jewish observances in the context of the modern American community. Adas has been at its present landmark location at Connecticut Avenue and Porter Street since 1951. As the congregation continues to evolve, the building will be changing to support its role as a thriving center for worship, learning, and living, including both Jews and non-Jews in its many activities.
The building has played host to Dr. Martin Luther King, Jr., Israeli Prime Ministers Golda Meir and Yitzhak Rabin, Presidents Nixon and Ford, Senator Robert F. Kennedy, as well as Vice Presidents Hubert Humphrey and Albert Gore, and recently the Dalai Lama.
"Adas Israel has grown and changed a great deal since we first broke ground for our current home," says Synagogue President Johanna Chanin. "The Vision of Renewal renovation will put us on a path to fulfill the inspiring vision of our Rabbi, Cantor, and our lay leadership to provide a warm, welcoming, creative, and engaging environment for everyone who passes through our doors, while preserving Adas Israel's distinguished history."
The dramatic design includes a complete overhaul of four worship and gathering spaces within the current 2850 Quebec Street address. The Charles E. Smith Sanctuary (also known as the Beit Tefillah or House of Prayer), which is the building's largest worship space, will feature changes that better connect worshipers and prayer leaders, while heightening the spiritual "feel" of the space. These changes include a more intimate seating arrangement, a sculptured eastern wall, and a large circular skylight that will saturate the worship space with natural light, consistent with Jewish tradition.
The Gewirz Beit Am (House of the People), currently an auditorium, has been entirely re-envisioned to emphasize the many ways the community gathers. It will be a light-filled place used for worship, meals, celebrations, school programs, classes, meetings and other activities. An expanded lobby will provide an open area for the community to gather and will lead to a new and unique space at the heart of the building, the Beit Midrash (House of Study).
"The Beit Midrash or MakomDC (Place DC) embraces and fulfills a purpose that is as new as the concept of a 'third space' that is neither an auditorium nor a library, and as old as the historic Jewish Talmudic academies," says Steinlauf. "It will be a place of Jewish conversation, of real dialogue. It will feature comfortable seating and tables for discussion, books and technology, coffee and snacks, guest speakers, engaging sessions, and daily prayer services. It will be a place where people, ideas, and Jewish experiences intersect."
The design was developed after a multi-year outreach to a broad cross-section of the Synagogue's membership. Adas Israel's clergy and leadership worked closely with renowned architect Hugh Hardy, assisted by team leader Ariel Fausto, and the staff of the H3 Collaboration Architecture firm in implementing the congregation's vision. Hardy and H3 recently completed a reinvention of the Lincoln Center Theater in New York, and designed the renovation of New York's Historic Central Synagogue. Construction at Adas will take place in three phases over the next year, to allow continuation of all Synagogue activities in the building.
The ceremonial groundbreaking event for the renovation project will be held onsite on Sunday, October 14 at 3:00 p.m. The ceremony will feature the temporary removal of door mezuzot (doorposts), the safekeeping of Synagogue Torah scrolls, a ceremonial prayer for a successful project, and a celebratory toast.
Following the groundbreaking ceremony on October 14, members of the media will have an opportunity to have one-on-one Q&A with Adas Israel clergy and staff members and special guests. For media interested in attending, please RSVP to Director of Communications, David Polonsky at (202) 362-4433, ext. 133 or email david.polonsky (at) adasisrael (dot) org.
Follow all the latest developments at http://www.adasisrael.org or on facebook.com/adasisraeldc.