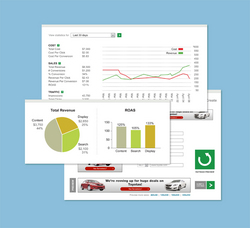 Our platform eliminates grunt work, saves time and improves ROI
New York, NY (PRWEB) October 6, 2008
AdBuyer.com (http://www.AdBuyer.com)] announced the release of its free platform to easily create, manage, and optimize online advertising campaigns across search, content and display.
AdBuyer.com provides all the tools a direct response marketer or agency needs to run a successful online marketing campaign. AdBuyer.com's search and content solution - fully integrated with Google, Yahoo and MSN - allows advertisers and agencies to easily edit campaigns, create and launch new campaigns, optimize keyword bids, and generate new keyword suggestions.
AdBuyer.com also provides free tools that make it easier than ever to buy display inventory. Marketers using the AdBuyer.com platform have direct access to inventory available in the Right Media exchange, the largest ad exchange with billions of daily impressions. With only a few clicks, an advertiser can create and launch a highly targeted display campaign using their own creative or can customize pre-built templates.
The free dashboard allows marketers to see all of their campaigns in one place and AdBuyer.com's premium offering provides actionable recommendations on improving ROI.
"Our platform eliminates grunt work, saves time and improves ROI," stated Tim Ogilvie, Co-Founder & CEO of AdBuyer.com. "AdBuyer.com is ideal for advertisers and agencies focused on reaching and exceeding their direct-response objectives."
More information about AdBuyer.com is available at Booth 320 at SMX East in New York City on October 6th and 7th and at http://www.AdBuyer.com .
About AdBuyer.com:
AdBuyer.com's one-of-a-kind platform helps advertisers easily create, manage and optimize search, content and display campaigns. An integrated dashboard allows advertisers to quickly view performance across search, content and display. Robust tools help advertisers to manage and optimize search and content campaigns across Google, Yahoo and MSN from one interface. AdBuyer.com's display solution allows easy access to the Right Media ad exchange.
AdBuyer.com, formerly Soothware, was founded in 2007 and is based in New York City.
Contact:
Jessica Ogilvie
646-723-4081
jogilvie @ adbuyer.com
# # #