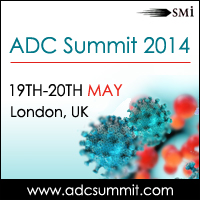 ADC summit is a great place to showcase our technologies and interact with future potential partners and collaborators to help take your business forward." - Dr Mahendra Deonarain, Photobiotics
London, UK (PRWEB UK) 6 May 2014
The truly global event has attracted attendees from all over the world including Austria, Belgium, Canada, France, Netherlands, Norway, Switzerland, United Kingdom and USA.
Due to high demand, availability to attend the 3rd annual installment is now strictly limited. Registration will be closing soon. For those who are interested places can be booked online at http://www.adcsummit.com.
Event highlights include:

Event sponsor, PolyTherics, discuss ThioBridge Conjugation: A keynote address from Director of Scientific Affairs - Bioconjugation & Protein Engineering, Dr George Badescu, will provide unique insights on ThioBridge Conjugation with a focus on novel ADC formats, site specific conjugation, payloads, mAb and Fab conjugates. Read the exclusive interview with Polytherics in the event download center
Photobiotics talk antibody fragment ADCs: "The SMi ADC summit is a great place to showcase our technologies and interact with future potential partners and collaborators to help take your business forward." - Dr Mahendra Deonarain, Chief Scientific Officer. Interview available in the event download center
Mersana Talk on Fleximer-Based ADCs | The presentation entitled: Fleximer based ADCs will discuss, Improving DAR without Sacrificing PK and Tolerability, Maximizing Efficacy of ADCs Targeting Low Expression Targets and Broadening the Diversity of Payloads Amenable to ADCs
Spirogen to lead roundtable debate and discuss creative ways to make the ADC "smart bomb" smarter: Attendees will be invited to participate in a panel debate to address the latest challenges and improvements to various pieces of the ADC technology puzzle pertaining to antibodies, drugs and the linkers that bond them. Dr Philip Howard, Spirogens' Chief Scientific Officer, will then go on to present an opening keynote address on 20th May. The presentation entitled: The Development of the Pyrrolobenzodiazepine ADC Platform, will focus on antitumor antibodies, Pyrrolobenzodiazepine antibody conjugates and the development of synthetic Pyrrolobenzodiazepine.
MedImmune provide unique insights into target selection: A case study led presentation from Associate Director, R&D, Oncology Research, Dr Adeela Kamal, looks at working in prefect harmony when selecting the right target and right antibody.
This is just a snippet of what will be covered. Other speakers will include Pfizer, Ablynx, University of Oxford, Photobiotics, Genetech, Synthon, Progenics plus many more. Click here to see the full speaker line up and conference agenda.
ADC SUMMIT 2014
19TH AND 20TH MAY 2014
Holiday Inn Kensington Forum, London UK
http://www.adcsummit.com
Sponsored by PolyTherics, Synaffix and Viventia Bio Inc
About SMi Group
Established since 1993, the SMi Group is a global event-production company that specializes in Business-to-Business Conferences, Workshops, Masterclasses and online Communities. We create and deliver events in the Defence, Security, Energy, Utilities, Finance and Pharmaceutical industries.
We pride ourselves on having access to the worlds most forward thinking opinion leaders and visionaries, allowing us to bring our communities together to Learn, Engage, Share and Network. We hold events in over 30 major cities throughout the world including London, Paris and Singapore and to date have welcomed over 200,000 participants from 80 countries.
More information can be found at http://www.smi-online.co.uk.