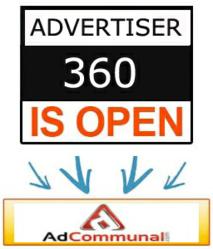 "Our ultimate goal is not only to help publishers generate more revenue from our ads, but to assist them in becoming advertisers as well."
Christiana, DE (PRWEB) August 31, 2011
Advertiser360, the brainchild of Gauher Chaudry, Peter Nguyen and Waseem Khan, ensures that even the least Web savvy consumer can capitalize off of the Internet marketing phenomenon, without being a pawn in someone else's marketing scheme. Despite general misgivings about implementing another "Get Rich Quick" scheme, Advertiser360 boasts a truly laudable merit; named the 2nd Top Ranked Entrepreneur Program in the US by Baylor University, aspects of the course have been implemented in actual classrooms.
Launched in April 2011, this avant-garde system combines the most coveted marketing tools and strategies with the necessary expertise to build your own campaign from scratch, and provides tangible, material resources, making it vastly different from anything that has previously been released in the industry. As one of the bonuses included in the program, The Online Rolodex comprises over 500 tools, vendors and other industry gems that share insider tips and tricks on how to create, expand and protect a fledgling online marketing campaign.
So what does this enticing program lack, one may wonder? Campaign Distribution. While Advertiser360 guides a user through the necessary steps to create an exciting campaign to market online, ensuring that the product gets proper exposure online has a tremendous amount to do with the success of any campaign.
AdCommunal, a performance based lead-generation ad network with access to over 4000 active publishers, provides a viable outlet for these new advertisers to gain distribution to their campaigns. With a transparent and user friendly interface, AdCommunal creates earning opportunities for publishers by allowing them access to campaigns and advertisers in a variety of verticals, ranging from educational opportunities to daily discounts and deals.
"This collaboration is a great opportunity for savvy entrepreneurs to create an online program with relative ease using Advertiser 360, while securing users and distribution through an adnetwork like AdCommunal." says Neil Raj, company director. "Our ultimate goal is not only to help publishers generate more revenue from our ads, but to assist them in becoming advertisers as well."
With various gratuities and tools to expedite the learning curve for advertisers and publishers alike, AdCommunal is truly a one-stop shop for online connoisseurs. AdCanadian (a Canadian affiliate network), AdMobix (a mobile affiliate network) and AdIndian (an Indian affiliate network)- AdCommunal's subsidiaries - provide the user with a sampling of different campaigns and diverse array of traffic sources, and ensure that the end-user's overall experience is a truly enjoyable one.
About AdCommunal
AdCommunal Inc. is a performance-based online marketing provider for advertisers, publishers and online affiliates in the United States, Canada and the UK. The company hosts one of the most progressive affiliate programs in the industry, providing some of the greatest return on investment for advertisers and highest payout for publishers, with access to ad placements on various websites, blogs and social media such as Facebook and Twitter, all on a performance basis.
Adcommunal Director Neil Raj is available for interviews on a range of topics related to online advertising, including what to consider before launching an online ad campaign, how to maximize your online advertising investment, pitfalls to avoid, and tips for choosing the best agency and network for your ad campaign.
For more information and to schedule interviews please contact Chrystal Mariyanayagam at 646-867-3977 or at chrystal(at)adcommunal(dot)com.
###