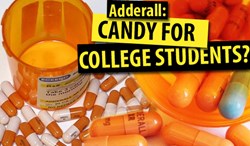 Call 877-463-1658 for help with Adderall Addiction and Abuse
Houston, Texas (PRWEB) May 25, 2013
For college students, few events can be more stressful than finals week. Increasingly, they are turning to prescription stimulants like Adderall to help them stay awake and study. For more on this, go to http://www.sciencedaily.com/releases/2013/05/130501145151.htm.
Recovery Associates, a drug treatment facility, warns that students who pick up Adderall, "just to help them through finals" are at risk for developing a physical and psychological dependency. While initially they may use it for finals, depending on underlying factors like genetics, social factors and self-esteem, they may not stop using it once finals are over.
A counselor at Recovery Associates also cautions against mixing Adderall and alcohol.
"Because Adderall is a stimulant, people who drink while using it often drink more. Whereas you would normally pass out once you reached your limit, Adderall keeps you up, increasing the risk for alcohol poisoning."
Recovery Associates is a drug and alcohol treatment center that provides a variety of programs and services for men, women and teens struggling with chemical dependency issues. At the core of their philosophy is the belief that addiction is a treatable illness. Their Adderall addiction treatment experience has shown that anyone is capable of achieving lasting recovery and physical, mental and spiritual freedom from the disease of addiction.
Their unique program offers three different tracks: a Traditional Track, an Expressive Therapies Track and a Christian Alcohol Treatment Track. They believe that by utilizing a variety of therapies they can better assist their clients in finding their own individualized path to recovery. Their focus is on the underlying issues that have led to the addictive behaviors and destructive patterns.
Recovery Associates' multidisciplinary team is made up of a Board Certified Addictions Psychiatrist, Master's Level Therapists and Certified Addictions Counselors. They are passionate about recovery and helping individuals and families begin the healing process.