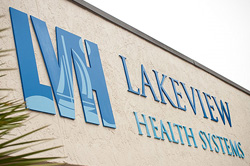 We are always looking for ways provide our graduates and all those in recovery with the tools they need once they have left treatment
(Vocus/PRWEB) February 03, 2011
Lakeview Health Systems, an award-winning treatment center for drug and alcohol addiction and dual diagnosis, in partnership with Stepping Stone and Recovery Connection is set to launch a new webinar outreach program for graduates of the treatment facility and all those in recovery on February 23rd at 6:30 PM.
The webinar series, available to all graduates and anyone working on recovery, will focus on maintaining sobriety, providing new drug and alcohol information, while offering tips and exercises to help recovering addicts weather the daily stressors of living. Viewers can mark their calendars in advance for the last Wednesday of every month. This project was coordinated by Alumni services to help graduates and their friends stay connected to Lakeview Health Systems as a vehicle for ongoing support.
Joanna Hathaway, alumni coordinator, said "we are excited to be offering this new program. We know how important ongoing support can be in maintaining sobriety. Our commitment to helping people find and keep recovery includes our alumni. We are always looking for ways provide our graduates and all those in recovery with the tools they need once they have left treatment."
Alumni services offers graduates with a life line to treatment. Research has continually illustrates that sobriety success is greatly increased when a person completes treatment, follows the aftercare plan and solidifies support networks. Hathaway explained "we want our graduates to understand that we continue to be here for them. To that end, we are always thinking of ways to help them. We believe this webinar program will be a huge success".
The first three webinars will explore the Mind, Body, Spirit relationship to recovery. The first step in relapse prevention is to address one's thinking process: the mind. Hathaway continued "we think it appropriate to start the webinar series with this focus".
To make the webinars available to as many as possible, each session will be taped and easily accessed on the Alumni page under Webinar Archives. Anyone who wants to review what was covered, or who missed a session can find the webinars on the Lakeview site.
To register for the webinar series, please visit: http://www.lakeviewhealth.com/webinars to sign up to receive the password to access the webinar on the date and time of the event.
About Lakeview Health Systems
Lakeview Health Systems is a licensed and accredited drug and alcohol treatment center in Jacksonville, FL. They offer men and women from all over the country a 6-week program, which includes a medical detox, inpatient rehab, a family program, and treatment for dual diagnosis disorders. They specialize in providing highly personalized and comprehensive care using a multidisciplinary approach, incorporating medical, psychiatric, psychosocial, and clinical treatments. For help with a drug or alcohol problem, call their free Addiction Helpline at 888-252-6488.
###