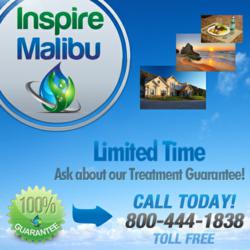 The community needs to be aware of study's like these so they can be informed and properly communicate with their families.
Malibu, CA (PRWEB) December 19, 2012
Dr. Akikur Mohammad, Founder of Inspire Malibu, recognized by many as the top drug rehab and addiction treatment centers in Malibu, California and Assistant Clinical Professor of Psychiatry and the Behavioral Sciences at the University of Southern California, announced today that he and his team of addiction treatment experts from Inspire Malibu will be addressing the public about the need for heightened awareness around the potential dangers of medical marijuana abuse among adolescents and adults. According to a recent study funded by the National Institute on Drug Abuse, medical marijuana use among adolescent patients in substance abuse treatment is very common, indicating that that many adolescents in treatment have had access to someone else's medical marijuana. Furthermore, according to the study, "approximately 74% of the adolescents had used someone else's medical marijuana, and they reported using diverted medical marijuana a median of 50 times. After adjusting for gender and race/ethnicity, adolescents who used medical marijuana had an earlier age of regular marijuana use, more marijuana abuse and dependence symptoms, and more conduct disorder symptoms compared with those who did not use medical marijuana."
Dr. Mohammad said, "According to the recent study, there is a direct link between early medical marijuana use and the severity of symptoms and behavior associated with marijuana; this information is beyond significant to treatment professionals and needs to be shared with the public." Mohammad added, "While there may be a place for medical marijuana in our society, this study and our own research confirms that the current dispensary system is significantly flawed. When the research confirms that not only are adolescents reporting that they have significant access to other patients' marijuana prescriptions, but also that adolescents abusing medical marijuana at an early age experience significantly more extreme marijuana-related symptoms, there is something very wrong with the current system."
Dr. Mohammad and the Inspire Malibu team will be addressing this concern and more at their next town hall meeting. Mohammad added, "The community needs to be aware of study's like these so they can be informed and properly communicate with their families. The fact that adolescents may have easier access to marijuana as a result of the current dispensing protocol is unacceptable; however, the fact adolescents already in treatment are struggling with more extreme symptoms as a result of their exposure and use of medical marijuana is tragic. A better system is necessary along with a greater public awareness; our team at Inspire Malibu is fighting for both."
For more information about Dr. Akikur Mohammad, Non 12 step treatment and Inspire Malibu's next town hall event, visit Inspire Malibu.