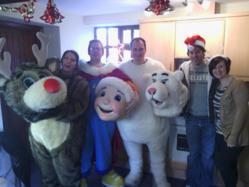 AddPeople took a trip down to the Adventure Farm to help out at their Christmas party
(PRWEB UK) 11 December 2012
Recently Nick Gardner, one of their SEO experts braved three of Italy's most famous volcanoes, Etna, Vesuvius and Stromboli. The adventurer faced rough weather and dangerous terrain but managed to survive and raise over £1,300 much needed funds for the chairty. This is not the first time AddPeople went to extreme lengths to help raise money, back in September two of their employees jumped from a plane at over 13,000 feet for CAFT.
Today, AddPeople took a trip down to the Adventure Farm to help out at their Christmas party. Dressed up as cheerful characters including Santa Claus himself, the team brought some festive cheer to the celebrations.
CAFT, based in Cheshire, provides a space for terminally ill and disadvantaged children to forget their problems and create special memories. CAFT at Christmas is even more extraordinary than usual as the kids not only to get to meet Santa himself but also his hungry reindeers and little helpers. The kids our kept busy with a life sized snow globe, CAFTs very own sweet shop and Santa's Grotto!
AddPeople employees are continuously thinking of new ways of how they can help raise money for CAFT. If you wish to donate to this great cause, visit AddPeople's just-giving page at https://www.justgiving.com/company/addpeople or follow them on twitter at https://twitter.com/add_people for more information on what the AddPeople team are getting up to in order to help raise money for the Children's Adventure Farm Trust.
To find out more about the amazing work they do at CAFT, please visit http://www.caft.co.uk or call 01565 830053.