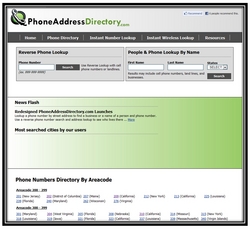 We are extremely excited to launch a new phone address directory service. We believe that our new reverse phone tools will help us maintain our spot as one of the most innovative and trusted companies in our industry.
Panama City, FL (PRWEB) August 30, 2010
PhoneAddressDirectory.com today announced it has launched new Reverse Phone Search, Reverse Address Finder and People Search tools. The tools enable consumers to simply enter a phone number and it will provide options for searching businesses and people across the United States.
Reverse Phone Lookup services provide more ways for consumers to search public directory information to find people information they are looking for, such as the identities of callers, locations and addresses, and to validate phone numbers.
Look up a person, search a reverse cell phone number or locate a street address. Find a business or a name or an unlisted phone number from a reverse address lookup to see who lives, owns, leases or works there. Search White-pages and Yellow-pages telephone directory information or someone's address listing to locate a person from a Reverse Telephone Directory and a People Locator. Need to find a person you know or looking to locate someone fast? Find anyone instantly with unlimited public record people searches! National and International telephone number lookups in the US and Canada.
PhoneAddressDirectory.com is a leading provider of Reverse Phone Address Directory services which enable consumers to simply search a telephone number, including cell phone numbers (where available), landline numbers and VoIP to accurately locate the phone number owner. Now you can be assured that if you don't recognize the caller or if you miss a call from a person that doesn't leave a message, you can use this service to find out if the phone number is from a business associate, bill collector, or just a wrong number. Reverse phone lookup services can be easier to use than traditional White-pages or Yahoo people searches because phone numbers are more easily linked with specific people helping to get you to the right person faster.
Additionally, it is important for consumers to learn how to recognize and report telephone fraud to help stop some scams. Find useful resources at our resources page. Additional organizations to contact are:-
• Contact a consumer advocacy group like the Better Business Bureau, which seeks to resolve complaints on behalf of consumers.
• Look up the Attorney General's office for the state in which the business is based: http://www.naag.org
• Contact the Federal Trade Commission at ftc.gov/phonefraud
• To reduce the number of unwanted telemarketing calls, register your phone number with National Do Not Call Registry.
About
PhoneAddressDirectory.com is a leading provider of reverse phone address directory services which enable consumers to simply reverse lookup a phone number, including cell phone numbers (where available), landline numbers and VoIP to accurately find the owner of that phone number. Get latest on our company blog.
Contact
If you have any questions, please contact pr at phoneaddressdirectory.com or follow us on our Facebook page and Twitter page.
# # #