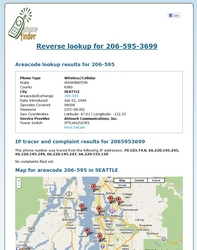 I used the service to perform a search the same way I used to perform a Yahoo reverse phone lookup and I got more accurate results, thank you very much! I'm a full time member now.
Los Angeles, CA (PRWEB) June 22, 2010
Freephonenumberfinder.com today announced the launch of a comprehensive reverse phone lookup search that enables consumers to quickly and accurately find a person using landline and cell phone numbers. Reverse phone lookup services can be more accurate than traditional people searches because they connect phone numbers with specific people helping to ensure you get the right person.
Freephonenumberfinder.com has integrated multiple phone directory databases from leading white pages and phonebook services to provide accurate and comprehensive results. Simply type in a phone number and freephonenumberfinder.com will find out what information and services are available.
Freephonenumberfinder.com is designed to help consumers in a number of ways including:

Look up the name of the person who is calling from an unknown number
Check unknown numbers on phone bills to ensure accurate billing
Find family or friends you have lost track of over the years
The service enables consumers to simply type in the number available including cell numbers, landline numbers and VoIP to accurately find the owner of that number. Now you can be assured that if you don't recognize a number or if you miss a call from a person that doesn't leave a message, you can use this service to find out if the number is from a business associate, bill collector, or just a wrong number. You can choose whether you want to accept a call from this person in the future saving you time and frustration. Here is our video tutorial on how to find the owner of a phone number.
Freephonenumberfinder.com can also be used to find sources of other critical information including:

Complete Background Checks
Google Map Location Information
Addresses
Criminal Records
Date Checks – verify critical information before heading out on a date with someone new
Friend Checks – find out who is trying to friend you on Facebook or follow you on Twitter
Property Records
Please visit the site at freephonenumberfinder.com today to try this new service free of charge. Also, please follow our blog for latest announcements.
About
FreePhoneNumberFinder.com provides information services that enable consumers to quickly and easily find people and other information online by entering landline or cell phone numbers. Freephonenumberfinder.com aggregates, integrates and delivers real-time people and phone search results from a variety of leading databases to produce the best results in one location eliminating the need for consumers to search across multiple websites.
Contact
If you have questions, please contact us at pr(at)freephonenumberfinder(dot)com.
# Facebook Page
# Twitter Page
###