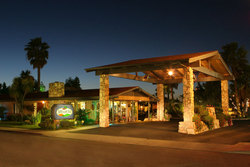 From hidden-away restaurants to can't-miss museums, Fodor's Choice selections recognize the top sights, properties, and experiences our editors and updaters have found in their travels
San Luis Obispo, CA (Vocus) December 29, 2009
The Adelaide Inn has been recognized by Fodor's Travel, the foremost name in travel publishing, as a 2009 Fodor's Choice selection. This distinction represents a remarkable achievement and recognizes the Adelaide Inn as a leader in its field for service, quality, and value in the 2009 year.
Since 1988, Fodor's Travel has been awarding the Fodor's Choice distinction to only the very best hotels, restaurants and attractions around the world. Every year, Fodor's writers experience, examine and evaluate thousands of hotels, restaurants and attractions in their travels across the globe. While every business included in a Fodor's guide is deemed worth a traveler's time, only fifteen percent of those selections are awarded the very highest, Fodor's Choice designation by Fodor's editors.
"From hidden-away restaurants to can't-miss museums, Fodor's Choice selections recognize the top sights, properties, and experiences our editors and updaters have found in their travels," says Fodor's publisher Tim Jarrell. "These places are the best of the best, providing a remarkable experience in their price range or category."
As a 2009 Fodor's Choice recipient the Adelaide Inn receives special recognition in the current Fodor's guidebook to the Paso Robles, CA region.
About the Adelaide Inn:
The Adelaide Inn is an independent hotel, family owned and operated for over 45 years. Guests will find more than they would expect as most of the friendly, attentive staff have been with the Adelaide Inn for over 10 years offering warm and personal service. In most of the guestrooms you will find comfortable, homey features including reclining armchairs, makeup mirrors, and flat-screen televisions with premium cable channels. The business traveler will appreciate this Paso Robles hotel with amenities not usually found at comparably priced properties. The rooms also include a working desk, refrigerator, coffeemaker, microwave, and free high speed DSL Internet.
Located half way between San Francisco, CA and Los Angeles, CA in the heart of Paso Robles Wine Country, the Adelaide Inn is a short drive to over 200 tasting rooms. The Adelaide Inn celebrates the Paso Robles Wine Region with a Winery of the Month Promotion and another favorite getaway is the Adventure Wine Tour. Spend the day touring the Paso Robles countryside, sipping award-winning wines and leave the driving to the wine specialist at the Wine Wrangler.
About Fodor's Travel:
Fodor's Travel, a division of Random House, Inc., is one of the world's leading providers of travel information. Covering over 300 destinations worldwide, Fodor's guidebooks and Web site, Fodors.com, have provided the most up-to-date, accurate information for travelers for more than seventy years.Written by a team of over 700 writer's located around the globe, Fodor's provides travelers with engagingly written and accurately reported and absolutely indispensable travel guidance.
###