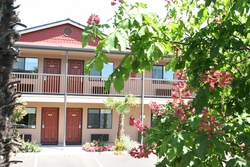 Can't go wrong with this place for the money. The room was newly upgraded. Beds were soft and comfy. Hotel workers were very friendly and helpful. We talked to one of the winery owners while we were on a tour and he said he has his family stay at this hotel when they are in town. Best value for the money in town were his words.
Paso Robles, CA (Vocus) April 14, 2010
In an effort to bring guests closer to the wine tasting and vineyard experience, the Adelaide Inn has partnered with Cloud Climbers Jeep Wine Tours for a sensory wine tasting experience.
The Cloud Climbers Jeep Wine Tours allows guest to go off the beaten track and right into the vineyards from wine tasting room to wine tasting room. This unique experience also offers guests scenic views that some photographers take days to find. High in the hills west of Paso Robles, there are panoramic views all the way to the Pacific Ocean. See wine country from a different point of view, in an open air jeep on the back roads of Paso Robles Wine Country, what could make for a more adventurous day.
"I'd like to give a huge Thank You to Cloud Climbers and our tour guide Sal. My wife and I had a wonderful time exploring the amazing scenery in the open air jeeps - Sal was knowledgeable and courteous, but most importantly, he made us feel like our trip was uniquely one-of-a-kind. Spending time in Paso Robles with friends, we were looking for something original to do… We couldn't have picked a better activity. The scenery, the jeep, the wine (!!!), the guide- it was a truly wonderful time. Thanks for the laughs, Sal!"- Cloud Climbers Facebook Fan
As a 2009 Fodor's Choice recipient the Adelaide Inn receives special recognition in the current Fodor's guidebook to the Paso Robles, CA region. The Adelaide Inn tied for first place in the San Francisco Chronicle's wine country getaway contest held online at Baylist.sfgate.
The Adelaide Inn is an independent hotel, family owned and operated for over 45 years. Guests will find more than they would expect as most of the friendly, attentive staff have been with the Adelaide Inn for over 10 years offering warm and personal service. In most of the guestrooms you will find comfortable, homey features including reclining armchairs, makeup mirrors, and flat-screen televisions with premium cable channels. The leisure traveler will appreciate this California hotel with amenities not usually found at comparably priced properties. The rooms also include a working desk, refrigerator, coffeemaker, microwave, and free high speed DSL Internet.
Located half way between San Francisco, CA and Los Angeles, CA in the heart of Paso Robles Wine Country, the Adelaide Inn is a short drive to over 200 tasting rooms. The Adelaide Inn celebrates the Paso Robles Wine Region with a Winery of the Month Promotion.
Adelaide Inn Trip Advisor Review: "Can't go wrong with this place for the money. The room was newly upgraded. Beds were soft and comfy. Hotel workers were very friendly and helpful. We talked to one of the winery owners while we were on a tour and he said he has his family stay at this hotel when they are in town. Best value for the money in town were his words."
###