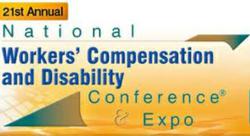 (PRWEB) November 07, 2012
Please join Adelson, Testan, Brundo & Jimenez (ATB Law) at Booth #254 during the upcoming Workers' Comp & Disability Conference & Expo at the Las Vegas Convention Center on November 7-8th. Attorneys from ATB Law, an innovative, and results oriented national Workers' Compensation Defense Firm, look forward to two days of networking, exchanging information, and providing answers about the latest developments in the workers' compensation and disability industries.
Here's what you can expect when you stop by the Adelson, Testan booth during the conference:

Proven results and an innovative approach. Learn about our industry-leading legacy and complex claim closure initiatives, which have been effective even in the toughest jurisdictions.
Perspectives to help you succeed. Gain insights on the latest developments affecting comp, including: California's SB 863; implications of the current meningitis outbreak, and updates on the controversy surrounding Florida's prevailing-cost statute.
Strategies for meeting the toughest challenges. Get the latest on how to navigate challenging obesity and comorbidity claims outlined in the recent NCCI study.
Innovation to drive efficiency. Meet our consulting and analytics team, which drives ATB's ability to consistently deliver outstanding results for our clients.
An eye on the future. See how the ATB Legal Institute is developing the next generation of exceptional workers' comp attorneys.
Steer clear of distracted driving risks. With distracted driving now a huge potential exposure for employers, ATB offers dedicated resources working with clients on leading edge solutions to manage this risk and address related litigation.
A bite of the Apple! Enter to win a MacBook Air.
So, be sure to stop by Booth #254. Meet the ATB team. Learn how our experienced attorneys, innovative approaches, effective use of technology can deliver results for you. For more info and to arrange a one-on-one meeting during the conference, send us an email. To register for the conference, click here. We look forward to seeing you there!