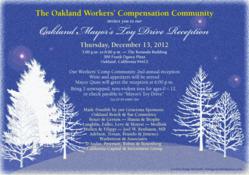 (PRWEB) December 07, 2012
Adelson, Testan, Brundo & Jimenez (ATB Law), a workers' compensation defense law firm with offices in twelve different states throughout the nation, is one of the sponsors of the Oakland Mayor's Toy Drive Reception being hosted by The Oakland Workers' Compensation Community on Thursday, December 13, 2012 from 5:00 – 8:00 p.m. at The Rotunda Building in Oakland, California. This will be a great event with delicious wine and appetizers and Oakland's Mayor Jean Quan giving a reception opening address at 6:00 p.m.
Many from the Workers' Compensation Community have come together to sponsor this event, including the Oakland Bench and Bar Committee and other generous donors from the medical and legal community. The traditional toy drive collects toy can cash donations to help families in need throughout downtown, East and West Oakland. To help with the success of the drive, please bring two unwrapped, non-violent toys for children ages 0-12 or a check made payable to the "Mayor's Toy Drive" (Tax ID 94-6000-384), which enables the purchase of toys at discounted prices to supplement the donations. A few suggested gift ideas are:

Books (reading and coloring)
Educational toys and materials
Dolls and action figures
Board and other games
Infant appropriate toys
Toy trucks and cars
Sports equipment (e.g., basketballs, baseballs, soccer balls, mitts)
Art supplies (e.g., crayons, colored pencils, painting sets)
Jewelry
Backpacks
Purses for young ladies
Wallets
DVDs
Cold weather accessories (e.g., scarves, gloves)
Gift Cards
Adelson, Testan et al. feels honored to participate in helping serve neighbors and members of the community during the holiday season by sharing toys and gifts for children whose families would not otherwise be able to afford to purchase them. We invite you to share the spirit of the holidays and make this a joyous season for everyone!
For more information about the reception, please click here to view the invite.