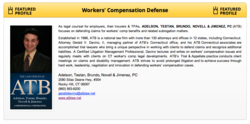 Hartford, Connecticut (PRWEB) February 12, 2013
Adelson, Testan, Brundo, Novell & Jimenez (ATB Law) today announced that it has been selected for inclusion in Hartford's Finest 2013 Top 12 profile series as the featured Workers Compensation Defense Firm in Connecticut.
Hartford's Finest is a service of Proactive Resources which highlights the best firms in various industries and has done so continuously for over 25 years. The series recommends firms based on peer recommendations, Martindale-Hubbell, the Better Business Bureau (BBB), and other highly acclaimed resources.
In its profile, Hartford's Finest noted that the managing partner of Adelson, Testan, Brundo, Novell & Jimenez's Connecticut office, Attorney Gerald V. Davino, II, and his associates are highly accomplished and experienced professionals who bring an unmatched perspective to their practice, and are committed to avoiding prolonged litigation.
The featured profile for ATB Law can be accessed on the Hartford's Finest website at http://www.proactiveresources.com/020613/index.html or in print in the February 6, 2013 issue of the Hartford Advocate.
Formerly Adelson, Testan, Brundo & Jimenez, the premiere workers compensation defense firm changed its name to Adelson, Testan, Brundo, Novell & Jimenez in January 2013 to recognize the contributions of partner Susan Novell. The firm recently expanded its offices in Florida through the addition of two practiced attorneys to meet increasing demand in Florida for the firm's broad range of services.
Adelson, Testan, Brundo, Novell & Jimenez also recently announced the formation of its Sports Law Practice Group, represented by over a dozen veteran attorneys to better service the needs of its diverse clients. Michael Pang, who has practiced workers' compensation defense with ATB Law for nearly ten years and has deep experience working on behalf of professional sports teams in response to athlete workers' compensation claims, was named managing director for the practice group.
Adelson, Testan, Brundo, Novell & Jimenez maintains offices in 12 states and has over 130 attorneys experienced in workers' compensation defense. Further information about the firm and its activities can be accessed at http://www.atblaw.net.
About Adelson, Testan, Brundo, Novell & Jimenez (ATB Law)
Established in 1996, ATB Law is a national law firm whose primary focus is the defense of workers' compensation claims, employer's liability and related matters. With more than 130 professionals serving the litigation needs of insurance companies, third-party administrators and self-insured employers, ATB has the breadth of resources needed to assess large portfolios of cases, facilitate critical decisions on closure opportunities and provide experienced litigators to follow through on complex matters. Visit the ATB website at http://www.atblaw.net.