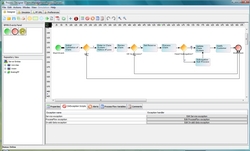 Being recognized as a Cool Vendor in Integration confirms the value of Adeptia's unique Services-centric approach to integration.
Chicago, IL (PRWEB) May 12, 2010
Adeptia Inc., an innovative provider of business process integration technologies, today announced that it has been included in the list of "Cool Vendors" in the April 21, 2010 "Cool Vendors in Data Management and Integration, 2010" report by Gartner.
This report, written by Eric Thoo, Donald Feinberg, Ted Friedman, Andres Bitterer, analyzes vendors with "innovative approaches and technologies to help organizations improve the scalability of databases, introducing new optimization techniques, integrating data for delivery to software as a service (SaaS)-based applications and ensuring the quality of data across applications and data structures."
"We believe Adeptia's inclusion in the Cool Vendor report by Gartner is an important affirmation of our innovative business process integration software product", said Lou Ennuso, CEO of Adeptia. "For us, being recognized as a Cool Vendor in Integration confirms the value of our unique services-centric approach to integration that allows our customers to easily and quickly automate their business and data processes using a library of reusable services."
Customers utilize Adeptia's business process integration technology to integrate internal and external data with applications, systems and databases and for automating key processes. Automated processing using Adeptia technology ensures data integrity, security, and consistency. Adeptia's Integration solution is particularly well suited for diverse initiatives and it delivers strategic value to customers by addressing following areas:

Improve flow of information: Automate data flows from customers, partners and between multiple information systems.
Improve process efficiency and timeliness: Automate business rules and coordinate different tasks allowing greater management and control over business processes making them seamless and efficient.
Adeptia offers its products for deployment both on-premises or in the cloud at Amazon EC2. Adeptia offers a flexible pricing model with a subscription license option.
With this announcement, Adeptia has also introduced a "Rent-to-Own" program for new customers. This program is designed to encourage customers to utilize and try the Adeptia products while reducing their risk of large up-front investment. Under this program, customers may elect to purchase Adeptia products with a monthly subscription license and in six months have the option to convert to a perpetual license. The six-month subscription will be applied as a credit to the perpetual one-time license fee. For more details, please email sales@adeptia.com.
The 'Cool Vendor in BPM' report is available to Gartner clients at http://www.gartner.com/.
About Gartner's Cool Vendors Selection Process
Gartner's listing does not constitute an exhaustive list of vendors in any given technology area, but rather is designed to highlight interesting, new and innovative vendors, products and services. Gartner disclaims all warranties, expressed or implied, with respect to this research, including any warranties of merchantability or fitness of a particular purpose.
Gartner defines a cool vendor as a company that offers technologies or solutions that are: Innovative, enable users to do things they couldn't do before; Impactful, have, or will have, business impact (not just technology for the sake of technology); Intriguing, have caught Gartner's interest or curiosity in approximately the past six months.
About Adeptia:
Adeptia is an enterprise software company that provides business process integration technology to easily and quickly automate business processes and data flows using industry-specific standards. Adeptia's unique product combines business process management with business-to-business integration. Many customers, ranging from Fortune 1000 companies to mid-sized and small businesses have deployed Adeptia's reusable and highly scalable technology. http://www.adeptia.com
###