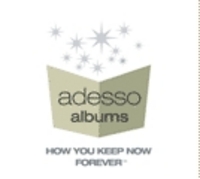 I found Adesso when I was getting married but couldn't find them outside the United States
San Francisco, CA (PRWEB) February 26, 2008
Adesso Albums announced today that their line of Instant Photo Guestbooks® will now be distributed internationally via three independent distributors in Canada, the United Kingdom and Australia.
Adesso Albums' product line has been sold in the US for the past five years, via the company's online store and over 200 national resellers. Sales from international distributors represented about 8% of 2007 revenue with projections doubling for 2008.
United Kingdom distributor Helen Rankin sells the product line under the company name Instant Forever. Her decision to become an Adesso distributor came after she purchased an album for her 2005 wedding.
"I found Adesso when I was getting married but couldn't find them outside the United States," said Helen. "I loved the albums so much that I knew other brides would love them too, so I pitched for the UK distribution rights and was thrilled when Founder, Lesley Mattos, agreed to make me the first, and only UK distributor."
The wedding market makes up approximately 75% of Adesso Albums sales so it's not surprising that both the Canadian and Australian distributors discovered the brand like UK distributor Helen Rankin, while planning their own weddings.
"I came across Adesso Albums when I was planning my wedding, and I thought it was such a fantastic idea that it really should be readily available to the Canadian market as well," said Jo-Anne Stayner, founder of Picture This Albums. "The response so far has been overwhelming - from weddings to corporate events - people just seem to love the idea of capturing the moment with something so unique."
The latest addition to the international distribution channel is Instant Albums, which is owned and operated by Jason Wallace. The online store sells Adesso Albums product line exclusively and anticipates huge popularity within the Australian market.
"We had such a great response to the albums from our own wedding guests it made sense to make the albums available in Australia," said Jason. "We are excited to be the first Australian distributor of such a fantastic product."
Adesso Albums' patented concept is revolutionizing the traditional guest book market. The albums combine Polaroid instant photos taken of guests at events - such as weddings, bridal or baby showers, birthday, anniversary, graduation parties - with personalized hand written sentiments from those guests, creating a unique, one of a kind, real time memento of the event that can be enjoyed the instant the event is over.
For more information:
Visit: http://www.adessoalbums.com
Call: 800.961.7761
Fax: 415.957.9902
About Adesso Albums:
Adesso Albums, Inc. was founded in January 2002 and is headquartered in San Francisco, CA. The Company designs, markets and sells the world's first line of "instant photo guest books®" internationally. Adesso Albums and the Adesso Albums logo are registered trademarks of Adesso Albums, Inc.
###