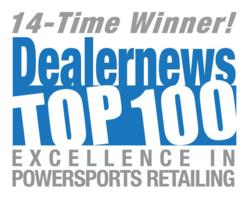 Columbus, OH (PRWEB) March 23, 2012
Dealernews, the "voice of the powersports industry" and the premier business information resource for North American power sports retailers announced the Top 100 Dealerships in North America last month. Placing in the top 100 yet again was A.D. Farrow Co. Harley-Davidson. The company has coveted this distinguished award for ten consecutive years and a total of 14 years, proving excellence in the power sports industry.
In addition to being a Top 100 dealer, A.D. Farrow Co. Harley-Davidson, America's Oldest Harley Dealer, was made the recipient of what could be considered the highest accolade the industry bestows, the Dealernews Top 100 Special Merit Award for Community Service. This is the second time in three years A.D. Farrow Co. has won this prestigious award. America's Oldest Harley Dealer won the award due to the strong charitable impact it has made on the community. Having participated in events like the Susan G Komen Race for the Cure Thunder Tunnel, the Ohio Fallen Heroes Ride and Rally, and the Dierks Bentley Miles and Music for Kids Event the company was able to contribute around $200,000 to charities.
The Company has also been recognized by the Conway Family Business Center, winning the "Community Engagement Award" in 2009. Local community involvement seems to be part of the DNA of A.D. Farrow Co. Harley-Davidson. Recently celebrating their 100th Anniversary in February the company plans to remain focused on the charitable aspect of their business as they plan their 100th celebration, which will occur June 13th to June 23rd.