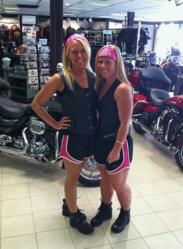 Columbus, OH (PRWEB) May 13, 2011
On Saturday morning, May 14th, the Susan G. Komen Columbus Race for the Cure will be taking over downtown Columbus. The three-mile race is one ridden with emotion as breast cancer survivors and supporters run together to fight against breast cancer, celebrate breast cancer survivorship and honor those who have lost their battle with the disease.
A.D Farrow Co. Harley-Davidson is committed to joining the fight by being a sponsor for this incredibly uplifting event in a variety of ways.
The 6th Annual Thunder Tunnel, at the corner of High Street and Chestnut Street, at the Komen Columbus Race is a real motivator to race participants. As runners and walkers pass through the tunnel, the revving engines and blaring horns of motorcyclists cheer them on. Take an early morning ride and arrive at the Tunnel between 6:30 a.m. and 7:00 a.m. for free coffee and donuts. This is truly a great way to be apart of the race.
We have sold out of the 2011 Race for The Cure Thunder Tunnel t-shirts, exceeding previous years in both quantity and sell through time for the largest donation yet to The Susan G. Komen Race for the Cure. All shirt sale profits were donated to the Susan G. Komen Race for the Cure.
This year two A.D. Farrow Team Members have chosen to take a different approach to raising money for the Race for the Cure. Sara and Mindy will run the race in Harley boots and vests. The two plan to run the entire three-mile course in Harley Boots, claiming "If these brave women can fight breast cancer we can surely run the race in boots!" Sara and Mindy are hoping people will sponsor their efforts by making donations to the Race for the Cure Event. To sponsor Sara and Mindy contact Sara at Saradicello(at)adfarrow(dot)com
To see Mindy and Sara on Channel 4 News and to learn more about Thunder Tunnel and A.D. Farrow Co. Harley-Davidson's sponsorship role click here.
###