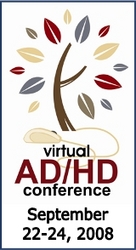 The Virtual AD/HD Conference™ is a unique opportunity for people to get all the tools they need to succeed from top experts, without ever leaving home
New York, NY (PRWEB) August 26, 2008
Twenty-two of the most celebrated doctors, therapists, and coaches in the field of Attention Deficit/Hyperactivity Disorder (AD/HD) are coming together for the first time in a virtual setting. From September 22-24, 2008, people affected by AD/HD, including parents, service professionals, and AD/HD adults, will hear live presentations from experts including:

Dr. Edward Hallowell, author of "Driven to Distraction"
Dr. Daniel Amen, author of "Change Your Brain, Change Your Life"
Sari Solden, MS, LMFT, author of "Journeys Through ADDulthood"
Attention Deficit/Hyperactivity Disorder (AD/HD) is a condition characterized by attention inconsistencies, impulsivity, distractibility, and hyperactivity. AD/HD affects an estimated 5% of the population worldwide.
"The Virtual AD/HD Conference™ is a unique opportunity for people to get all the tools they need to succeed from top experts, without ever leaving home," says Jennifer Koretsky of the ADD Management Group, who is hosting the conference along with Terry Matlen of ADD Contults.
Adds Matlen, "Everyone can participate at their own pace and attend only the presentations that most interest them. This conference has all the benefits of an in-person conference without the travel expense and hassle."
The live presentations will delve into important topics in AD/HD, such as:

Medication and Alternative Treatments
Addictions and Eating Disorders
Success Strategies for Kids, Teens & College Students
Time Management and Organization
Career Management
And much more
The Virtual AD/HD Conference™ will center on an interactive, participant-only website, which means that everything attendees need to participate in the conference and connect with their peers is located in one, easy-to-use online space. Participants will have the option to listen to each presentation live via webcast or via telephone, and share their thoughts in dedicated discussion forums.
In addition, the conference will host networking sessions in live chat rooms where attendees can connect with one another. There will also be a virtual exhibit hall of AD/HD products and services. Plus, attendees will have the opportunity to purchase an audio CD set with printed transcripts of all the presentations.
The conference is open to the public. Registrations are being taken online at http://www.ADHDconference.com.
For additional information on the Virtual AD/HD Conference™, a conference agenda, and biographies of the speakers, please visit http://www.ADHDconference.com or contact Erin Moore at (845) 883-0541.
The Virtual AD/HD Conference™ was founded by Jennifer Koretsky and Terry Matlen. Jennifer Koretsky is the author of Odd One Out: The Maverick's Guide to Adult ADD. She is a Senior Certified AD/HD Coach and the Founder of the ADD Management Group, LLC. For more information, visit http://www.ADDmanagement.com. Terry Matlen, MSW, ACSW is a psychotherapist and consultant. She is the author of Survival Tips for Women with AD/HD, and the Founder of ADD Consults, Inc. For more information, visit http://www.ADDconsults.com.
###