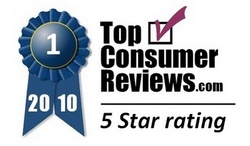 We're pleased to receive TopConsumerReviews.com's highest rating
Overland Park, KS (Vocus) October 5, 2010
TopConsumerReviews.com recently awarded their highest five-star rating to Listol, a non-prescription formula for ADHD.
"We're pleased to receive TopConsumerReviews.com's highest rating," said Brad Chase, President of Progressive Health. "All of our health and wellness products are formulated with quality in mind. Our team of naturopathic physicians closely analyzes each formula to find the best balance of effective ingredients. Thank you for recognizing our hard work in providing alternative solutions for ADHD."
Treatment for ADHD has been considered controversial since the 1970's by doctors, teachers, parents, and the media. Side effects of prescribed medicines can include stomach aches, weight loss, insomnia, tics, tremors, dizziness, nervousness, mood changes, personality changes, blood pressure, and headaches. If not careful, people can even develop addictions to prescribed ADHD medications. As an alternative to these powerful and sometimes dangerous prescription drugs, many people have found relief in safer, natural remedies.
"Listol is the most potent solution in our review of natural ADHD remedies," explained Brian Dolezal, of TopConsumerReviews.com. "The Listol website offers excellent information regarding treatment of ADHD with natural alternatives versus dangerous prescription stimulants. By addressing the nutrient deficiencies found in individuals with ADHD, Listol can increase attention span, increase information processing, and decrease impulsiveness. This safe, effective, natural ADHD formula earns our highest rating."
To find out more about Listol and other ADHD Solutions, including reviews and comparison rankings, please visit the ADHD category of TopConsumerReviews.com at http://www.topconsumerreviews.com/adhd.
About Progressive Health Nutraceuticals
Progressive Health Nutraceuticals is a privately held and funded company founded in 1997. Our Administrative headquarters are in Boise, ID. We have warehouses, manufacturing facilities, and customer service call centers in four different states (California, Idaho, Ohio, and Michigan). At Progressive Health, we offer very targeted and unique products. You will find formulas that are specific to different categories of health and wellness. Since we eliminate the typical hassles of a traditional business such as overhead and fixed costs - we are able to allocate more resources to research and development, bringing you the highest quality products available.
About TopConsumerReviews.com
TopConsumerReviews.com is a leading provider of independent reviews and rankings of hundreds of consumer products and services. From debt relief and hgh, to nail fungus and payday loans, TopConsumerReviews.com delivers in-depth product evaluations in order to make purchasing decisions easier.
# # #