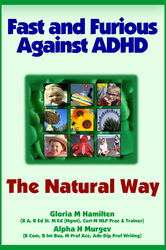 An Introduction to Coping with ADHD: 7 Steps to be in Control Again,
Brisbane, Queensland (PRWEB) July 25, 2009
Fast And Furious Against ADHD: The Natural Way is set out in 12 easy to follow chapters, and presents the information in a way that no other ADHD eBook has done before - easy to understand language, with techniques that will only require minimal changes to the current family environment. And most importantly, the methods work!
Recent studies have provided insight into the potential side effects of ADHD medication. Having this knowledge is one thing, finding an effective drug free approach to ADHD is another. This timely eBook provides those answers. More importantly, the answers are specifically for parents, guiding them through strategies to assist in: appreciating the gift ADHD can be; controlling ADHD symptoms; building a loving family environment; and managing conflict with the ADHD child.
The authors, Gloria Hamilten and Alpha Murgev, mother and daughter, have drawn on personal experiences with ADHD as well as the latest cutting edge research to compile the strategies in this eBook. Gloria is a mother and teacher, who faced ADHD symptoms herself as a child, and helped her own daughter, Alpha overcome those of ADD.
The goal of this eBook is to give parents guidance to help their own children overcome the challenges of ADHD, and to find the positives that do exist. The information provided removes the stigmas that are attached to ADHD.
Parents are provided with the opportunity to be proactive in the treatment of their ADHD child, so that they may become happy, well-adjusted and healthy adults.
A key to this book is providing information in a format that is instantly usable. Strategies are broken down into common daily situations. For example, how to manage being in crowds, learning strategies while at home, as well as learning strategies for school.
Different medication-free techniques are outlined, with an entire chapter devoted to ADHD nutrition and how to best approach this for the individual child, while catering for the whole family. There is even a free ebook, Super Simple ADHD Meals: 5 Day Meal Plan and Shopping List available to make things even easier.
The immediately implementable, practical strategies included in Fast And Furious Against ADHD: The Natural Way, target the problem behind the behaviour of ADHD - lack of concentration, hyperactivity and inattentiveness.
ADHD Drug Free Solutions has been established by mother and daughter team Gloria Hamilten and Alpha Murgev. A teacher of 30 years, Gloria holds a Master of Education, and has extensive experience in one-on-one coaching, group coaching, presentations and workshops, with both children and adults. She has a keen focus in behavioural management and understands the complex functions of the brain, having studied Neuro-Linguistic Programming and Psychology. Alpha is a freelance writer, who has been involved with many children's charities over the last 10 years, focusing on education and lifestyle change. Her particular interest is nutrition and helping others understand how to live healthy, happy lives.
Together, Gloria and Alpha have co-authored the following books and eBooks: "An Introduction to Coping with ADHD: 7 Steps to be in Control Again, "Fast and Furious Against ADHD: The Natural Way", "The Essential Guide To ADHD Nutrition, Volume 1", "The Essential Guide To ADHD Nutrition, Volume 2", as well as many online articles.
Contact
Gloria Hamilten
ADHD Drug Free Solutions
+61 (0)401 292 129
http://www.adhddrugfreesolutions.com
###