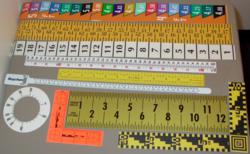 Wake Forest, NC (PRWEB) January 30, 2012
Stop-painting.com's self adhesive ruler tapes are custom made to customer's exact specifications. They have a huge selection of options to customize the adhesive rulers. Adhesive rulers are commonly used because of its pinpoint accuracy. Use them as gauges, measuring length, and monitor liquid level. Whether working indoor or outdoor, adhesive rulers adapt well to give the same accuracy required. It is made in 3 sections to help application process easy without afflicting accuracy.
Adhesive measuring tape are installed easily, just use long straight edge or mark a line then cautiously remove paper liner to expose adhesive side and position ruler. After several days the adhesive will become permanent. The adhesive rulers are available in single color, multi-color, transparent and fluorescent. Materials are made up of vinyl, metal, polyester, aluminum, styrene, stainless steel, and polycarbonate.
InSite Solutions is the manufacturer of Superior Mark floor marking tape. InSite Solutions manufactures floor solutions that increase safety, organization, and efficiency in the workplace. They offer Superior Mark and a variety of other traffic control solutions for sale on their ecommerce website, stop-painting.com.
Contact Details:
InSite's selection of workplace safety and traffic control solutions are available for sale at their ecommerce website, http://stop-painting.com/. Please contact Cliff Lowe for additional information. The telephone number is 1-866-284-1541 and email is customer-service(at)stop-painting(dot)com.
###