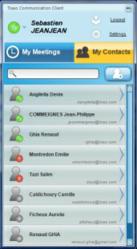 WorkSpace3D 4.0 will boost users adoption within companies and unleash the potential of collaboration over video conference.
Montpellier, France (PRWEB) June 21, 2011
Tixeo announces WorkSpace3D 4.0, which is a major milestone in its long-term strategy of delivering an alternative unified communication solution to products such as Microsoft Lync, Skype... By integrating both presence & ad-hoc meetings features, WorkSpace3D makes collaboration over video conference easier and more efficient.
Presence & ad-hoc meetings making videoconferencing dead simple
Most of web & videoconferencing software-based solutions require to schedule a video conference and send emails to invite attendees, before being able to join the meeting. This process is well-suited for meetings planned on a fixed date but not for informal meetings. Indeed, no matter where users are from, they would rather use their phone when they need to quickly talk to a workmate about a particular matter, instead of spending some time on scheduling a video conference.
In this latest release, Tixeo has added presence & ad-hoc meetings features to WorkSpace3D, allowing to know who is online, busy or offline, and set up an instant video conference by clicking on the contact to talk with. Thanks to this, talking over video conference with workmates will be as easy as giving a phone call.
By making videoconferencing easier and faster, WorkSpace3D 4.0 will boost users adoption within companies and unleash the potential of collaboration over video conference. Companies will not only be more productive than before but also save more money by maximizing video conferencing usage.
Echo-less communications no matter what devices are used
Audio quality over a video conference is a must-have to ensure great communication experience.
When using a built-in microphone and speakers, users usually end up with echo issues, making communications a pain. Indeed, the voice played by the speakers is recorded by the microphone and send back to far-end attendees, which makes videoconferencing a nightmare.
Rather than forcing all of its users to equip themselves with headsets or special devices with built-in echo cancellation, Tixeo focused over the past months on improving the Workspace3D AEC
(Acoustic Echo Canceler).
WorkSpace3D makes the most of your IPBX
For customers who want to have their on-premise videoconferencing server, Tixeo offers the possibility to deploy a SIP compliant Confcall Gateway, in addition to the Workspace3D Enterprise server.
This gateway allows to host conference calls synchronized to video conferences over WorkSpace3D. Each time a video conference is created, a phone conference will be automatically created on the Confcall Gateway, using the IPBX and one of the phone numbers of the company.
Thanks to this, users are free to use the built-in VoIP of WorkSpace3D or their phones during their video conferences at no cost.
About Tixeo
Tixeo is an innovative 3D video and web conferencing software company since 2003.
Our solutions allow anyone to set up meetings with up to 50 participants, using both voice and video over IP.
Tixeo's software are enriched with easy-to-use collaborative features and offer a unique experience: hosting traditional meetings in 2D or enjoying 3D virtual spaces with a greater speech-gesture-sketch communication.
Not only Tixeo's solutions are available as Software as a Service (SaaS), on both monthly and yearly plans, but also as on-premise licenses and appliances.
Thousands of customers worldwide work every day with WorkSpace3D, from SMB to large corporations, such as: Airbus / EADS, Raytheon, BNP Paribas, Flagstar Bank, Sogeti, DGAC, Conforama...
For further information, please contact:
TIXEO
http://www.tixeo.com
Cap Gamma – CS 37385
1682 rue de la Valsière
34189 Montpellier Cedex 4, FRANCE
Tel: +33 467 750 431
Fax: +33 467 408 033
Email: contact(at)tixeo(dot)com
###