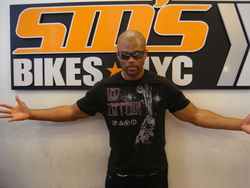 Undeniably, Darryl is an icon in the history of the adidas brand
Green Island, NY (Vocus) September 11, 2009
Pop culture phenomenon and adidas fan, Darryl "DMC" McDaniels along with his Run DMC band mates single handedly stoked the popularity of rap and hip-hop across the world, bringing the adidas brand with it. Although much has changed since "It's Like That" first hit the airwaves in 1983, the hip-hop community and adidas remain connected as demonstrated by the fans and the artists' commitment to the iconic brand.
Trading his signature thick black-framed glasses for a pair of sleek adidas agilis sunglasses, Darryl will pedal 100 miles in the City to The Sand 100 Mile Ride to raise funds for his foundation which is dedicated to providing enriching opportunities and experiences to children growing up with parents.
"Undeniably, Darryl is an icon in the history of the adidas brand," said Rocky Fresh, brand manager, adidas eyewear. "We're thrilled to have him wearing our eyewear to support such a notable charity."
Few brands have such an authentic and genuine connection to music and sport as adidas. Whether it's the beloved sneaker collection, or pair of sport inspired sunglasses, adidas has captured the look and lifestyle of hip-hop culture for decades.
"The agilis is one of our favorite adidas frames that we have in our shop," said Larry Wallach of Sid's Bikes in Chelsea, NYC. "As soon as DMC walked in the door to pick up his bike for the charity ride, I knew I had to connect him with adidas frames. Darryl loved the idea and gravitated straight to the black agilis."
It's Like That!
ABOUT THE CITY TO THE SAND 100 MILE RACE
The City To the Sand 100 Mile Ride kicks off at 7:30 AM EST, rain or shine, north at 1st Avenue up to 59th street, over the bridge through Long Island City and beyond on September 12, 2009. Riders may be able to compete in select distances - 50 or 100 mile increments, with rest stops provided every 20 miles; Food, drinks, bathroom facilities, medical aid and mechanical assistance will be provided along the way. For more information about the event log on to http://www.me-dmc.com. You can also contact DMC at http://www.twitter.com/Thekingdmc.
ABOUT ADIDAS EYEWEAR
adidas eyewear a globally licensed brand of Silhouette Optical, A.G., one of the world's leading innovators of high-quality eyewear. Under the adidas trademark, Silhouette designs, manufactures and distributes adidas eyewear to thousands of eyecare professionals in more than 60 countries. Located in Green Island, New York, Silhouette Optical is a wholly owned subsidiary or Silhouette, A.G., headquartered in Linz, Austria. For more information, visit http://www.adidas.com/eyewear. 1-800-626-8684.
Media Contact:
Margaret Jackson
617.248.0680 x10
###