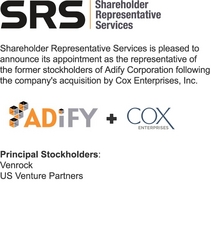 Serving as shareholder representative can be a time-consuming and thankless process
Denver, CO (PRWEB) May 28, 2008
Shareholder Representative Services(SRS), the first and only company specializing in post-closing professional shareholder representation in private M&A transactions, today announced that it has been appointed as the representative of the former stockholders of Adify Corporation following the Internet advertising technology company's recent acquisition by Cox TMI, Inc., a subsidiary of diversified media holding company Cox Enterprises, Inc.
The selling shareholders of San Bruno, Calif.-based Adify, whose technology enables clients to built vertical ad networks, include venture capital firms Venrock and US Venture Partners.
"Serving as shareholder representative can be a time-consuming and thankless process," said David Stepp, General Counsel of Venrock. "SRS takes the responsibility for making the post-closing process run smoothly, which allows Venrock to focus on what we do well -- building companies that shape the future."
SRS serves as a professional representative of the stockholders following the closing of merger or acquisition transactions. As shareholder representative, the firm manages post-closing matters including handling claims by buyers for damages related to breaches of representations or warranties, communicating with escrow agents and other parties to the transaction, and resolving other matters that may arise following closing.
"While most selling shareholders do not want to serve as shareholder representative, they really didn't have any other options prior to SRS," stated Mark Vogel, Managing Director, SRS. "Whichever investor got stuck with this task generally had a passive and reactionary approach to the process, which could subject that individual to liability if he or she is not satisfying the applicable duty of care. SRS now offers a better alternative: a professional shareholder representative firm that takes care of the post-closing process from start to finish and assumes the administrative burdens and risks that come with acting as shareholder representative."
With SRS, shareholders have the best of both worlds: the confidence that their interests are being represented vigorously and professionally, while maintaining control over the decision-making process.
For more information about Shareholder Representative Services, visit our website at http://www.shareholderrep.com.
About Shareholder Representative Services
Headquartered in Denver and with offices in Silicon Valley and San Francisco, SRS provides professional shareholder representation services following the closing of an M&A transaction. As shareholder representative, SRS manages the entire post-closing process including the management of escrows, earn-out negotiations, the handling of claims, disputes and litigation, communications with the acquirer, and, ultimately, distribution of escrow funds. By engaging SRS, investors are able to focus on their core competencies - identifying the next deal and managing the rest of their portfolio - rather than being distracted by the administrative burdens and legal and financial risks that may inure to the shareholder representative. The professionals at SRS have the expertise to simplify the post-closing process for the investors and to maximize return of sale proceeds to shareholders.
Contact:
Lori Teranishi
VPG LLP
Phone: 415-981-1964
###