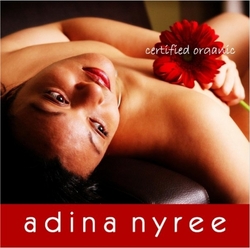 R&B, neo-soul, jazz, and spoken word
New York, NY (PRWEB) September 10, 2009
Adina Nyree (http://www.adinanyree.com) is a multi-talented neo-soul singer and spoken word artist. Performing with a live band, Adina Nyree will grace the stage at Billie's Black (271 W. 119th Street) in Harlem, NY on Wednesday, September 16 at 8PM. For those unable to go out on a 'school night,' a second performance will be at 7:30PM on Friday, September 18 at the Financial District's OS Art House (17 John Street) in New York City. The performances will introduce neo-soul, jazz, blues, and spoken word enthusiasts to a rising star.
Adina Nyree combines soulful vocals with rhythmic melodies and thoughtful prose. Her debut album, Certified Organic, is set to drop in October 2009. It is a captivating and emotive mix of music and lyrics that observes and celebrates the joys and struggles of life and love.
Her brand of music is a mixture of "R&B, neo-soul, jazz, and spoken word," says Ms. Nyree. "Certified Organic is all about love on a broad, grand scale. It's about love for the earth and its creatures; it's about people individually and collectively, romantically and platonically. Who can't stand to benefit from love?"
For additional information on Adina Nyree visit http://www.adinanyree.com. A five song EP is available for purchase at live performances only. Certified Organic, the debut album, will be available for sale on iTunes, cdbaby.com, adinanyree.com and at all live shows after October 24, 2009.
About Adina Nyree:
Adina Nyree is a poet / songstress; author of Read My Lips: The Poetical Ramblings of an Insanely Aware Girl; 2004 and 2005 Boston Lizard Lounge National Slam Team member; 2004-2006 performer and creative writer for Drumadics: The Theatrical Experience.
###