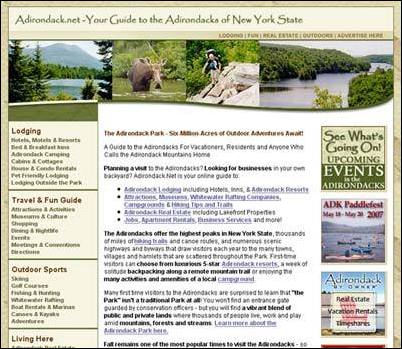 As a long-time resident of the area and an outdoor enthusiast, I was thrilled to add Adirondack.Net to our suite of regional sites
Glens Falls, NY (PRWEB) April 26, 2007
Mannix Marketing, Inc. recently purchased Adirondack, redeveloping the site into a destination portal that area visitors can utilize as a one stop guide to the Adirondacks. The acquisition of Adirondack.Net complements Mannix Marketing's current suite of regional websites aimed at promoting local businesses and bringing more visitors into the area.
"As a long-time resident of the area and an outdoor enthusiast, I was thrilled to add Adirondack.Net to our suite of regional sites," said Sara Mannix, founder and CEO of Mannix Marketing. "Our goal is to showcase the many businesses and activities located throughout the various communities within the Park, offering a one-stop resource for visitors and residents alike."
The new streamlined web design offers vacationers Adirondack lodging choices that can be sorted by both type and location. A travel and fun guide spotlights attractions, restaurants, museums and more, while an outdoor sports section highlights the range of activities in the area. A living here section provides useful resources and Adirondack real estate options for current and future residents.
"The Adirondack Region is such a widespread and diverse destination," adds Mannix. "With Adirondack.Net's 'filter by city' feature, we hope to highlight the multiple communities located in the Park, introducing visitors to areas previously unknown to them and increasing exposure for businesses located in even the smallest hamlet."
Visit http://www.Adirondack.Net for more information, or contact Sara Mannix of Mannix Marketing, Inc. at 518-743-9424.
About Mannix Marketing, Inc.
Mannix Marketing, Inc. is a full-service Internet marketing company specializing in creating and marketing websites and offers website design and development, hosting, content management solutions, search engine optimization services, pay per click campaigns, link building, and tourism marketing. The company owns and operates 23 online travel guides for the region including Adirondack.Net, LakeGeorge.com, Saratoga.com and Albany.com which receive over 1 million visitors a year.
###