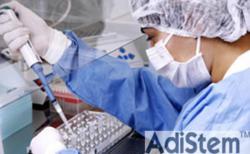 Preliminary results showed a statistically significant improvement in parameters related to quality of life 6 and 12 months after the first infusion
Amsterdam, Netherlands, (PRWEB) September 26, 2011
Annual Congress of the European Respiratory Society. 25 September, 2011
According to the latest WHO estimates (2007), about 1 billion people in the world currently have chronic respiratory diseases. Respiratory diseases rank second in Europe in terms of mortality, incidence, prevalence and costs, with an estimated yearly financial burden of €100 billion due to health care costs and lost working days.
Professor Nikos Siafakas, President of the European Respiratory Society, points out: "We need to promote excellence in European respiratory research to improve the quality of life of millions of European citizens suffering from lung diseases by strategic investment in and commitment to competitively driven medical research."
One of these initiatives has been to look into the effect of autologous stem cell therapy for unpreventable and incurable diseases such as Idiopathic Pulmonary Fibrosis (IPF). IPF, an unnoticed killer, results in many countries in more deaths per annum than ovarian cancer or leukemia, as reported by the Office of National Statistics ( ONS ) in the UK and recently published in the Thorax journal.
Professor Demosthenes Bouros, head of pulmonary medicine at Democritus University Hospital, Greece and his team, along with stem cell technology company Adistem Ltd, began a clinical trial at the end of 2009 (after formal ethics approval) into the safety/efficacy of delivering autologous (the patients own) adipose-derived stem cells into the fibrotic lungs of ill patients.
Dr Argyris Tsouvelekas, one of the principle investigators in this trial, reported on the results today to the attendees of the European Respiratory Society Congress in Amsterdam. "This is the first prospective non-randomized clinical trial to study the safety and efficacy of endobronchial infusion of adipose derived stem cells in patients with idiopathic pulmonary fibrosis. Twelve patients with IPF of moderate disease severity were enrolled in our study. Our preliminary results showed a statistically significant improvement in parameters related to quality of life 6 and 12 months after the first infusion, as well as pulmonary function and exercise capacity tests 12 months post infusion."
Professor Demosthenes Bouros, one of the world experts in this disease, will present this data again at the same societies' conference in Berlin next month. He comments: "Efforts by chest physicians and researchers to apply cell-based therapies for the treatment of IPF have been severely hampered by safety and ethical concerns. Our study may provide a way forward. Trials on other COPD lung diseases, such as emphysema, are also being initiated."
Dr Vasilis Paspaliaris, founder and director of Adistem Ltd, who was involved in the trial, stated: "Adipose tissue can provide physicians with an easily accessible, ethically uncontested source of mesenchymal stem cells with pleiotropic therapeutic properties with fruitful clinical applications. Clinical trials performed using our technology on type II diabetes in 2007-2009 and current ongoing trials on osteoarthritis have been testament to this."
For more information please visit http://www.adistem.com/idiopathic-pulmonary-fibrosis.html
###