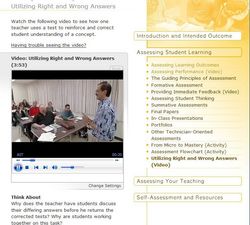 Boston, MA (PRWEB) March 4, 2008
Give faculty effective teaching tools and strategies to enhance their teaching styles with Getting Results, a free online course available at http://www.league.org/gettingresults. Getting Results, designed for part-time, adjunct and new faculty in two- and four-year colleges -- particularly those teaching of science, mathematics, technology and engineering -- is beneficial for all faculty, including veterans, full-time and those teaching in non-science areas. The six-module course is a 'teaching 101' for working with adult students in community colleges. It is available online 24/7, can be used for independent study, integrated into an existing program of face-to-face faculty development, and used with Blackboard or WebCT, as well as other course management systems.
The faculty development program includes an orientation video followed by six modules covering key topics in adult education, from building a community of learners to assessment. Each module features video examples of effective teaching and learning in action; background information about the teacher and class; activities for learners; readings; PDF versions of web-based text content; customizable PowerPoint slide shows; and suggestions on how to take the strategies back to the classrooms.
Faculty members participating in an independent evaluation conducted at thirteen community colleges across the US found the experience overwhelmingly positive. Jim Johnson of Nashville State Community College reports, "We have been using Getting Results the last two years in the fall semester Technology Division new faculty orientation. Frequently, new instructors have extensive work experience in their fields but little or no formal background in teaching. Getting Results is an excellent tool because it gets to the heart of effective teaching. The online course materials allow faculty to focus on the material in their off-teaching time and to engage in stimulating discussions with other faculty. Recently, one instructor told me she completely revised the way she teaches her courses in Technical Chemistry based on the information learned in the Getting Results classes and is receiving excellent results."
The course is available free of charge from The League for Innovation in the Community College at http://www.league.org/gettingresults -- a CD-ROM version that does not require Internet access is also available for a nominal fee. Getting Results was funded by the National Science Foundation Advanced Technological Education Division (ATE) and produced by WGBH Educational Foundation in association with the League for Innovation in the Community College. Getting Results draws on research about best practices in adult learning. It was piloted at 13 community and technical colleges, and the Community College Survey of Student Engagement (CCSSE) at The University of Texas at Austin conducted a formative and summative evaluation.
Getting Results advisor's included Lynn Barnett, American Association of Community Colleges; John D. Bransford, University of Washington, Seattle; Lynn Cadwallader, Lesley University; Elaine L. Craft, Florence-Darlington Technical College Education; Mary Ann Haley, Research for Better Teaching; Allatia Harris, Dallas County Community Colleges; Ellen Hause, American Association of Community Colleges; Donald E. Jones, J & G Consultants; Norman R. Nelson, Avaya Communication; Ruth Stiehl, The Learning Organization; Cynthia Wilson, League for Innovation in the Community College; and Jim Woodell, North Shore Community College.
WGBH Boston is America's preeminent public broadcasting producer, the source of fully one-third of PBS's prime-time lineup, along with some of public television's best-known lifestyle shows and children's programs and many public radio favorites. WGBH is the number one producer of Web sites on pbs.org, one of the most trafficked dot-org websites in the world. WGBH is a pioneer in educational multimedia and in technologies and services that make media accessible to the 36 million Americans who rely on captioning or video descriptions. WGBH has been recognized with hundreds of honors: Emmys, Peabodys, duPont-Columbia Awards and even two Oscars. In 2002, WGBH was honored with a special institutional Peabody Award for 50 years of excellence. For more information visit http://www.wgbh.org.
The League for Innovation in the Community College is an international organization dedicated to catalyzing the community college movement. The League hosts conferences and institutes, develops web resources, conducts research, produces publications, provides services, and leads projects and initiatives with more than 800 member colleges, over 100 corporate partners, and a host of other government and nonprofit agencies in a continuing effort to make a positive difference for students and communities. Information about the League and its activities is available at http://www.league.org.
# # #