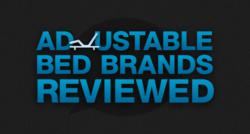 Tempe, AZ (PRWEB) March 15, 2013
As consumers of all ages look for ways to improve their sleep and comfort, adjustable beds continue to grow in popularity and sales. With many retailers now offering adjustable bases, it falls on the consumer to compare models and ensure they get the best value and a product that meets their expectations. Uninformed shoppers often end up paying too much for purchases or picking options that may not address their concerns or needs.
The latest article from the Best Mattress Reviews blog looks to help clear up confusion in the adjustable bed market by sifting through what several top adjustable bed brands offer. Titled "Top Adjustable Bed Brands Reviewed", the post rates seven brands on a five-point scale by comparing the features that prove crucial to performance and long-term satisfaction.
Introductions to the tested brands kick off the article with coverage of retail method, names of adjustable base models they sell, and the price range for queen size bases. The retailers identified, in alphabetical order, are Amerisleep, Costco, Craftmatic, Golden Rest, Sleep Comfort, Sleep Number, and Tempurpedic. Most of the group sells online with published prices between $1099 and $2699, though two, Sleep Comfort and Craftmatic, sell over the phone and do not list prices.
The blog then presents readers with a simple table laying out the rating of each brand across six factors: Price, Consumer Ratings, Health Benefits, Durability, Warranty, and Total. Overall scores average from 2.6-4.5 out of a total of 5, with 5 being best.
Following, readers receive detailed explanations of why each comparison factor is significant and why each retailer received the respective scores. Key points identified from the comparison include that better-known brands did not always perform highest, nor did the most expensive brands. The blog also claims brands that disclose prices openly prove more consumer-friendly, and mentions that owner reviews of most beds cited health benefits even if they complained about other factors, like durability or service. Tips for assessing durability and understanding warranties wrap up the comparisons.
In the final tally, the blog reveals Amerisleep, a retailer of adjustable beds and memory foam mattresses, as the winner with an overall score of 4.5/5. Factors contributing to the decision included high scores on verified owner reviews, competitive pricing, and transparent policies. The full article is available now on the website, and offers keen insights for consumers doing their own product research or just looking to learn more about adjustable bases.
BestMattress-Reviews.org is a bed research blog dedicated to providing mattress and sleep product information. On the blog, independent industry professionals provide expert opinions and recommendations backed by research and customer reviews. The website aims to make the buying and research process a little simpler by collecting and analyzing information in a digestible, enjoyable format.