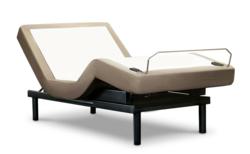 Phoenix, AZ (PRWEB) June 03, 2013
The idea of buying an entirely new item can seem daunting, as is the case with adjustable base beds. Electric adjustable bases have been around for awhile now, but have only recently surged in popularity due to wider availability online. As more consumers consider purchasing an adjustable bed, more are seeking out information on what to expect and know before making a buying decision. Consumer Mattress Reports, an online bed and mattress magazine, recently published a helpful article on the subject, "Adjustable Bed Buying & Checklist".
Similar to hospital beds in function, these products continue growing in popularity for their ability to deliver customizable comfort without impeding on the owner's decor. The guide provides an introduction to the adjustable bed shopping and briefly explains several key features shoppers are likely to encounter.
Consumer Mattress Reports begins with the basics, explaining what an adjustable bed does and that it consists only of the base or foundation component, with mattresses typically sold separately. They include a brief but informative video on the adjustable bed shopping process, produced by mattress and adjustable bed retailer Amerisleep.com.
Upon delving into the specific aspects of shopping, the guide first considers size, explaining that standard sizes exist in addition to extended sizes and split options which allow a couple to adjust their sides independently. The technical components including motors, weight, and battery backup options are also addressed.
The guide then takes a look at features related to comfort or preference, explaining the potential benefits. Readers learn about the benefits of both wired and wireless controls, massage functions, and why the range of motion the base can achieves is important.
The final aspects Consumer Mattress Reports addresses are warranties, mattresses, and delivery. They explain that consumers must look into the terms of the warranty and understand exactly what is covered and for how long as significant variance exists in the market. Mattress options are briefly mentioned, stressing the importance of flexibility and better performance of latex and memory foam options. The final tip offers insight into the delivery process in order to help consumers determine if curbside or white glove delivery might be best suited for their needs.
Those considering an adjustable base for themselves or in the process of shopping will likely find the explanations helpful in sorting through the various options. Consumer Mattress Reports' unbiased information delivers simple but helpful insights into the buying process, which can save shoppers from unnecessary expenses or headaches down the road.
Consumer Mattress Reports is an online magazine specializing in all things to do with beds and sleep. The easy-to-read blog design offers an inviting format for readers, with well-researched, expert articles on mattress ratings and brands. In addition to reviews and comparisons, the website also covers the latest mattress news and offers helpful shopping information geared towards shoppers.