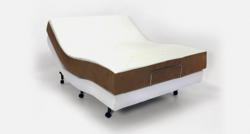 Seattle, WA (PRWEB) June 20, 2013
Personalized comfort continues as a trend in the bedding industry, and one product of increasing visibility is the adjustable bed. Though adjustable beds have been around for decades, the advent of online shopping, new technology and more options have paved the way for greater permeation. With many mattress retailers now offering the products and a higher profile in advertising and pop culture, Bed Ed set out to answer some pressing consumer concerns about the beds.
The article reflects on the question, "What's the Big Deal about Adjustable Beds?", by explaining their basic functions and components, popular features, and offering top reasons people buy adjustable beds.
Bed Ed begins by explaining how adjustable beds differ from hospital beds in function and appearance, citing more aesthetic appearances, convenience features and furniture compatibility with the former as key divergences. The other key point the article touches on is that an adjustable bed is typically separate from the mattress, which allows consumers greater flexibility. The mechanics of the electric bases are briefly covered as well.
For those who thought the beds simply moved the head and foot of the bed, the features section draws attention to the more advanced functions some modern options offer. Bed Ed explains the differences between various types of controls and touches on massage, alarm, snore, backup, wallhugger, and split features.
The benefits of a product also prove helpful for many consumers, and the Bed Ed article looks at these in terms of which most often lead people to choose adjustable beds. Comfort is mentioned as compelling factor for the ability to alleviate temporary aches and pains for all types of people, and for making routing tasks such as getting out of bed and watching television more comfortable for people with limited mobility. Several specific health concerns are also mentioned as reasons people select adjustable systems, like swelling and acid reflux. Functionality is the other key benefit, with the multi-tasking beds improving a range of activities.
Bed Ed includes a brand chart drawn from a previous article on retailer comparisons, which offers a list of popular retailers scored by consumer ratings, price, warranty, and more. In the comparison, the highest overall scorer proves Amerisleep which offers a range of adjustable beds from their own brand as well as Leggett and Platt. The article concludes suggesting adjustable bases have been garnering popularity due to potential benefits and expanding demographic appeal.
BedEd.org is a mattress education blog dedicated to providing informational resources to shoppers. The blog features impartial assessments of mattress types, brands, and other sleep related products, developed via first party research, third party reviews, and expert research and opinion. In addition, readers receive useful sleep quality tips and news on the latest mattress developments.