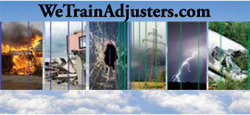 We know that the economy is struggling and money is tight. By offering these two programs, we think that companies will be able to get their employees the training they need at an affordable price
Harpers Ferry (PRWEB) April 28, 2010
MindCross Training recently announced two innovative training programs designed to help make property adjuster training easier to take and more affordable. The first option, the Seminar Series, is designed to give adjusters critical training when they need it. The Enterprise Licensing Program allows companies to offer a wide range of online training to their employees in a cost effective, easy to manage package. Learn more about both training packages here.
The Enterprise Licensing Program allows students to take any of the training courses offered at WeTrainAdjusters, including the popular Florida property adjuster licensing program PPIA. The Seminar Series classes can be mixed and matched to meet a company's specific needs.
"We know that the economy is struggling and money is tight. By offering these two programs, we think that companies will be able to get their employees the training they need at an affordable price," said Scott Hutton, Training Director for MindCross Training. "The programs combine flexibility, ease of access and manageability in a way that is unique in insurance industry training."
The Seminar Series program is a group of classes that include topics such as fraud, water loss adjustments and fire. Currently offered as instructor led classes and webinars, the series is based on the experience and knowledge of veteran property adjusters. Classes range from two-six hours in length. MindCross plans on offering these courses as self-directed online training in the coming months.
The Enterprise Licensing Program allows companies to pre-purchase training for one or more employees. A single point of contact is assigned for billing and administration, which allows companies to centralize their training management. Companies can request reports that show the training used, test results and more. And by purchasing the training in advance, organizations can realize substantial savings.
"Both programs have been very well received in our pilot tests," said Hutton. "The Seminar Series was completely full when it was offered in Florida. And, the companies that have signed up for the Enterprise Licensing Program have told us how much they like the control and administration benefits, as well as the savings. "
The Enterprise Licensing Program and Seminar Series are available immediately. Training offered by MindCross includes topics such as Property Adjusting 101, Construction and Homeowners Policy.
About MindCross Training
Founded in 2001, MindCross Training is a training development company focused on providing various types of cost-effective training and training services. MindCross is currently working with partners in the insurance industry to provide adjusters with the best training available. MindCross is an authorized Continuing Education (CE) provider in Texas and Florida. Additional information can be found at http://www.mindcross.com.
###