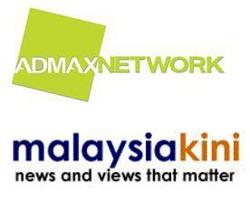 Malaysia (PRWEB) March 5, 2009
Admax Network, Southeast Asia's leading website representation and digital advertising network of premier local and international sites, has announced a partnership with Malaysiakini to extend its reach into Malaysia market. The new partnership is set to strengthen the network as a leading advertising platform in the Southeast Asia region.
Malaysiakini is one of the most visited online news portals and one of the most famous websites in Asia. The new partnership is expected to significantly increase revenues and exposure for both entities."Admax have been very supportive since their first year of partnership with Malaysiakini since 2006 and have brought us some of the biggest online advertisers from the IT, Automotive Hotel, Tourism and Telco industries. The partnership also brought about our first venture into site skinning which was proven to be a success with a number of our client. The one thing that sets Admax apart from everyone else is that they are very efficient and professional with regards to their service," says Meera Thuraivel, Group Advertising Manager of the Malaysiakini Group of companies.
"According to Internet World Stats, Malaysia has 14.9 million internet users in 2008, this representing a massive potential, internet-based advertising market to explore. Our partnership with Malaysiakini is fundamental to our success for introducing quality ad network in Malaysia. This collaboration definitely highlights our objective to become a leading and preferred advertising platform for both quality publishers and advertisers," commented Kelvin Tan, Sales Director for Admax Network Malaysia.
Admax Network develops advertising platform for Southeast Asia and reaches into each individual nation including Indonesia, Malaysia, Singapore, Thailand, the Philippines and Vietnam. In addition to the new partnership, Admax Network is also continuing to seek additional websites and expand its advertising network in Southeast Asia to create high quality, targeted advertisement yet cost effective platform for advertisers.
About Admax Network
Admax Network was launched in 2006 as a subsidiary of the Digital Marketing Solutions (DMS) Group. With operations in Indonesia, Malaysia, Singapore, Thailand, the Philippines, and Vietnam, the network represents leading local and global digital publishers in Southeast Asia and has a network of over 500 premier sites offering relevant local media content via online and mobile platforms. Admax is committed to providing marketers with simple but effective access to targeted consumers whilst enabling top agencies and publishers the ability to grow their advertising revenue and measure results. For more information, please visit http://www.admaxnetwork.com.
About Malaysiakini
Launched on November 20th, 1999, Malaysiakini.com offers daily news and views in English, Malay, Chinese and Tamil, delivering over 40 million page views and 750,000 video downloads per month to over 1.6 million absolute unique visitors (Google Analytics, August 2008). As of July 2008, Malaysiakini became the most read news website and the most popular Malaysian website (Alexa.com). Malaysiakini's editorial position is built on fast, accurate and independent news, and well informed and diverse views.
Malaysiakini has been recognized through various awards and accolades including from the International Press Institute, Reporters Sans Frontiers, Committee to Protect Journalists, Asiaweek and Businessweek. Malaysiakini is also the only media organization in Southeast Asia nominated to the prestigious World Economic Forum's International Media Council. For more information, please visit http://www.malaysiakini.com
###