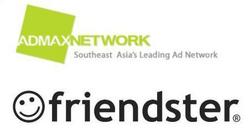 Partnering with Admax Network enables us to create local and regional campaigns for brand advertisers and marketers in Indonesia
Mountain View, CA and Jakarta, Indonesia (PRWEB) April 2, 2009
Friendster, Inc., a top 20 global website based on traffic and the #1 social network in Asia, today announced that it has further strengthened its reseller partner alliances by appointing Admax Network as the official Indonesia reseller partner for online advertising and sponsorship campaigns sold on Friendster. Admax Network will provide advertisers standard, custom and innovative ways to launch marketing programs on Indonesia's #1 social network.
Admax Network, a leading website representation and digital advertising network of premier local and international sites in South East Asia, will leverage its strong relationships with local advertisers in Indonesia to help them to create compelling brand, product and service campaigns on Friendster, a top-3 web site, and the #1 mobile site in the country.*
"Partnering with Admax Network enables us to create local and regional campaigns for brand advertisers and marketers in Indonesia," said Aaron Barnes, vice president of global sales and business development for Friendster. "Indonesia is a fast growing online ad market as well as a burgeoning market for Friendster. Today over 20% of our daily active users come from Indonesia making Friendster the perfect place for local brands to engage with consumers online. We look forward to further monetizing our Indonesia traffic in partnership with Admax Network," he said.
According to a new study by Yahoo! and Nielsen Online, Indonesia is forecasted to lead in growth of online spending over 2009 and 2010, with an estimated $26.8 million spent on online display ads in 2009 and $28.4 million spent on display ads in 2010. For search ads, Indonesia is forecasted to spend $12.6 million in 2009 and $13.4 million in 2010. This represents a 30% increase from 2008 spending for display and 191% increase from 2008 spending on search ads.****
"Our new exclusive agreement in Indonesia with Friendster, the # 1 social network in Asia, represents an exciting period for Admax Network. Friendster is renowned for providing an outstanding user experience and delivering dynamic advertising solutions," said Peter Goldworthy of PT Admax Network Indonesia, Admax Network's Indonesian subsidiary. "With 2009 set to be a break out year for digital advertising in Indonesia, I cannot think of a better time for our partnership to begin," he said.
Friendster Leads in Indonesia
Friendster is the #1 social network in Indonesia and more than 5 times larger than the next largest social network in Indonesia. In Indonesia, Friendster has over 5,000,000 monthly unique visitors to Friendster.com as of November 2008.*** Since there are over 25 million Internet users in Indonesia, about 20% percent of Indonesia visited Friendster in November. With over 15 million registered users in Indonesia, about 60% of Indonesia's Internet users have a Friendster account. A typical user spends 30 minutes a day on Friendster and visits Friendster several times a week, communicating with friends and sharing and consuming content through a suite of features, creating a great platform for local advertisers.
Friendster Leads in Asia and is a Top 20 Global Website
Friendster is the #1 social network in Asia, with over 75 million registered users from Asia.** In Asia, Friendster has more monthly unique visitors than any other social network. Plus, Asia is the largest market of Internet users (Asia has 41% of the world's Internet users while the U.S. has only 19%), and Asia is the fastest growing region in the world.** Friendster has a loyal and growing user base throughout Asia in the following top 10 countries for Friendster: Australia, China, Hong Kong, India, Indonesia, Japan, Malaysia, the Philippines, Singapore and South Korea.
Friendster is a top 20 global website in the world in terms of traffic, serving over 19 billion page views a month.** Friendster is also the leader in "user engagement" among the top five global social networks, with users spending an average of 190 minutes per visitor per month on http://www.friendster.com.**
About Friendster
With more than 95 million members worldwide, Friendster is a leading global online social network. Friendster is focused on helping people stay in touch with friends and discover new people and things that are important to them. Online adults, 18 and up, choose Friendster to connect with friends, family, school, social groups, activities and interests. Friendster prides itself in delivering an easy-to-use, friendly and interactive environment where users can easily connect with anyone around the world via http://www.friendster.com or m.friendster.com from any Internet-ready mobile device. Friendster has a growing portfolio of patents granted to the company on social networking, with more expected over the next several months. Headquartered in Mountain View, California, Friendster is backed by Kleiner Perkins Caufield & Byers, Benchmark Capital, DAG Ventures, IDG Ventures and individual investors. For more information, visit: http://www.friendster.com.
About AdmaxNetwork
Admax Network was launched in 2006 as a subsidiary of the Digital Marketing Solutions (DMS) Group. With operations in Indonesia, Malaysia, Singapore, Thailand, the Philippines, and Vietnam, the network represents leading local and global digital publishers in Southeast Asia and has a network of over 500 premier sites reaching over 47 million people monthly, and offering relevant local media content via online and mobile platforms. Admax is committed to providing marketers with simple but effective access to targeted consumers whilst enabling top agencies and publishers the ability to grow their advertising revenue and measure results. For more information, please visit http://www.admaxnetwork.com.
*Opera mobile report, October 2008
**comScore Media Metrix, Worldwide Data, October 2008
***Google Analytics and Friendster Internal Data, November 2008
****Yahoo! / Nielsen Online Study, December 2008
###