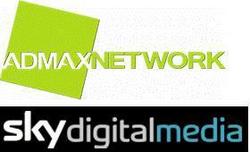 We are extremely excited about this new partnership with Sky Digital Media. The depth of content in Sky's online portfolio will continue to attract bigger audiences, which presents a great opportunity for advertisers. This is a great addition to our current pool of quality publishers
Bangkok, Thailand (PRWEB) April 3, 2009
Admax Network, Southeast Asia's leading website representation and digital advertising network has been selected by Sky Digital Media to represent its portfolio of leading UK-originated websites. Sky's portfolio of website includes well known and highly popular wholly owned websites such as skysports.com, skynews.com, skyshowbiz.com and the Sport365 Group, as well as a wide range of 3rd party websites including premierleague.com, Teamtalk.com and Sportinglife.com.
Sky Digital Media is the sales operation arm for BSkyB's own online and mobile assets as well as a range of high quality third party media owners. In online, it delivers a wide range of display, sponsorship and integrated advertiser solutions through its portfolio of 174 quality sites, which span sport, news, music, entertainment, fashion and parenting. Sky has a particular online heritage in sports and sells across 133 different sports site, including 14 Premier League football club sites, 3 governing bodies, 2 fan site networks, and skysports.com - the number one commercial sports website in the UK.
"We are extremely excited about this new partnership with Sky Digital Media. The depth of content in Sky's online portfolio will continue to attract bigger audiences, which presents a great opportunity for advertisers. This is a great addition to our current pool of quality publishers," commented Russell Conrad, Managing Director of Admax Network.
Giles Ivey, Director of Sales for Sky Digital Media said, "South East Asian audiences continue to respond to the quality of our editorial, meaning that we are reaching more and more people across the region. There is particular passion for Premier League football and Admax's local presence and expertise will ensure that advertisers will be able to tap into some of the UK's most popular online sports destinations."
"Watching English Premier League Football is one of the most popular social activities in South East Asia. As internet penetration further grows in South East Asia, fans will spend more time with their favorite teams online," says Russell Conrad.
Securing the partnership with Sky Digital Media further strengthens and develops Admax Network as a leading advertising platform in Southeast Asia. It is part of the network's ongoing effort to seek high quality websites and expand its advertising network in Southeast Asia to create high quality, targeted advertisement yet cost effective platform for advertisers.
To find out more about Admax Network, a leading digital advertising network in Southeast Asia, please visit http://www.admaxnetwork.com.
About Admax Network:
Admax Network launched in 2006 and is a subsidiary of Digital Marketing Solutions (DMS Group). It is the leading site representation and digital advertising network in Southeast Asia. The Admax network provides 15 targeted vertical content channels that reach more than 65 million consumers across six countries: Indonesia, Malaysia, Singapore, Thailand, Vietnam, and the Philippines. For more information visit http://www.admaxnetwork.com.
###