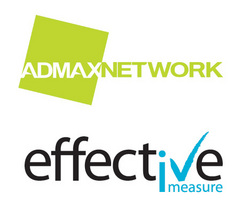 (Vocus) May 6, 2010
Admax Network, Asia's leading online ad network, has partnered with Effective Measure, a global online audience measurement company, to provide more insights into Admax Network's audience base of more than 76.1 million people. With Effective Measure's 3rd party collection and verification of audience data, Admax Network aims to provide advertisers with greater transparency and assurance that their brand messages are reaching the right consumers.
Grant Watts, CEO of Admax Group, says, "Verified online audience data and insights help give advertisers and their agencies the tools they need to make better decisions. Sadly, most markets in Asia still lack this independent resource. We believe that this data will not only help to give better clarity on where consumers are at any point in time and generate improved returns for advertisers, it empowers them to make strategic, long term investments."
With the adoption of Effective Measure's demographic profiling system into Admax's proprietary Adrenaline platform, Admax will be collecting detailed insights on their audience with the ability to target down to the ad position level in the very near future. This deeper level of audience profiling will provide advertisers with the tools and detailed insights to minimize media wastage and reach their target audience more efficiently.
Admax Network is the very first network and digital medium to adopt 3rd party verified demographic profiling across this region.
Russell Conrad, Regional Director for Southeast Asia at Effective Measure, says, "We are very excited to be working with Admax Network to generate data and demographic insights to add to their market offerings. Through Admax's Publisher Network of more than 3,200 websites, we will be educating the market about verified data and how critical it is to provide additional credibility and strength to the industry."
About Admax Network
Admax Network, launched in 2006, is the largest online advertising network in Asia with offices in Australia, Indonesia, Malaysia, Philippines, Singapore, Thailand and Vietnam. Admax Network has over 3,200 of the top local and international websites in its network, making it easy for advertisers to reach their target audience online, and helping publishers to maximize their revenues through a range of display advertising products. For more information, please visit "admaxnetwork.com"
About Effective Measure
Effective Measure is a world leading online Audience Measurement tool, headquartered in Australia, with offices in Dubai, New York, Melbourne, Sydney and Bangkok. Lead by a team of world respected Audience Measurement professionals, Effective Measure is rapidly becoming the de facto standard in 16 countries globally. Tasked with solving many of the Internet industries existing audience measurement problems, and with a world leading focus on user privacy and market requirements, Effective Measure is quickly becoming the preferred choice of responsible advertisers, publishers and government bodies. http://www.effectivemeasure.com.
###