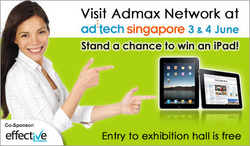 Friend or Rival? – How should media owners respond to ad networks?
Regional (Vocus) May 6, 2010
Admax Network, the largest online network in Asia, is the official ad network partner of ad:tech Singapore 2010 - the third Asian conference for digital advertising and marketing professionals to be held on June 3 - 4, 2010. To up the ante, Admax Network partners with Effective Measure, a global online audience measurement tool, for a lucky draw that offers a chance to win 3 iPads - Apple's revolutionary product yet to be released in Asia. To find out more about this draw, simply visit Admax Network at the booth, entry to the exhibition hall is free.
ad:tech is the venue to learn the latest practices and digital technologies that could make a brand in the 21st Century. It has also been the melting pot of marketing professionals around the region, who are eager to exchange ideas and expertise. Some of the interesting speakers include head honchos of Kraft Asia-Pacific and Windows 7, who will delve on the secrets of their notable marketing success. In addition, Grant Watts, CEO of Admax Group, will also be joining a panel of digital veterans to discuss "Friend or Rival? – How should media owners respond to ad networks?" at 4:40pm on Friday, June 4.
"Admax Network is truly honored to be the official network sponsor of ad:tech Singapore 2010. We look forward to an exchange of bright ideas and a demonstration of innovative marketing solutions from this region's professionals" says Grant Watts.
Effective Measure is equally excited about the event and looks forward to the finest ad:tech conference yet. "Admax Network is a key and influential partner in this region, we are glad to be involved at this event with them," says Russell Conrad, Regional Director Southeast Asia of Effective Measure. "We have seen and recorded how digital media has been transforming the marketing landscape at breakneck speed. ad:tech definitely helps to bring everyone up to speed."
For more information on ad:tech Singapore 2010, please go to http://www.ad-tech.com/singapore/adtech_singapore.aspx
About Admax Network
Admax Network, launched in 2006, is the largest online advertising network in Southeast Asia with offices in Indonesia, Malaysia, Philippines, Singapore, Thailand and Vietnam. Admax Network has over 3,200 of the top local and international websites in its network, making it easy for advertisers to reach their target audience online, and helping publishers to maximize their revenues through a range of display advertising products. For more information, please visit "http://www.admaxnetwork.com".
About Effective Measure
Effective Measure is a world leading online Audience Measurement tool, headquartered in Australia, with offices in Dubai, New York, Melbourne, Sydney and Bangkok. Lead by a team of world respected Audience Measurement professionals, Effective Measure is rapidly becoming the de facto standard in 16 countries globally. Tasked with solving many of the Internet industries existing audience measurement problems, and with a world leading focus on user privacy and market requirements, Effective Measure is quickly becoming the preferred choice of responsible advertisers, publishers and government bodies. http://www.effectivemeasure.com.
###