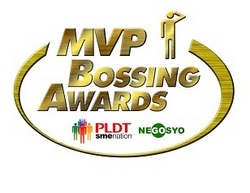 We have always believed in the potential of SMEs and the importance in recognizing their indispensable contribution in the nation's economy
Philippines (Vocus) October 1, 2010
Admax Network, Asia's leading online ad network, is the exclusive online media partner of the Philippine Long Distance Telecommunication company(PLDT) in its search for the top SME entrepreneurs in the country. The campaign dubbed "MVP Bossing Awards" launched this September, is the largest awards event honoring the success of the Philippines' leading SMEs. Admax launched the online campaign through extensive promotions across its network of more than 1,600 websites.
Admax reports that in the first seven days since the campaign launch, the MVP Bossing Awards online campaign has already far exceeded its target number of website visitors by 320%. "We have always believed in the potential of SMEs and the importance in recognizing their indispensable contribution in the nation's economy," says Resty Magno, Country Manager of Admax Philippines. Since Admax reaches out to more than 17.6 million Filipinos, Magno is confident that Admax can help boost the campaign and reach their target audiences. "Our niched platforms speak straight to the right markets, and has proven to deliver significant results," he affirms.
The MVP Bossing Awards honors leading SME owners that have the most significant contribution in the Philippine economy and are therefore models of excellence. It also honors businesses that make use of technology in their day-to-day operations to ensure their success. Aside from the prestige and honor of becoming PLDT SME's Bossing of 2011, the grand winner will take home P500,000 in cash and a package of PLDT SME Nation services. A total of 15 awards will be given and all winners will be part of next year's roster of Bossings. To qualify, nominated SMEs must be in operation for at least one year and must also be subscribers of PLDT services (minimum of landline and DSL). Nominees should be small and medium sized businesses that are majority Filipino-owned.
Nomination forms may be downloaded at http://www.pldtsme-nation.com/bossingako or at selected PLDT Business Offices nationwide. Nominations will be accepted until October 1, 2010. For more information, call 101-888 or log on to http://www.pldtsme-nation.com.ph.
About PLDT
For decades now, PLDT has held the distinction of providing the widest range of communication tools to the Filipino. This telecommunications revolution started in November 28, 1928 when the institution was granted the authority to operate telephone services in the country. Before then, phone networks only operated on the local area level; therefore, it was only possible for a person to call somebody who lived within the same city. PLDT's entry into the scene meant the consolidation of all these networks, thereby uniting the entire archipelago in a circuit. The innovations just kept coming. From making long-distance communications within the country possible, PLDT eventually placed the Philippines in the map by offering overseas communication services. This advancement has proven very useful and sentimental especially to a country whose main export is its talent. And when we entered the cyber age, PLDT was once again the forerunner in providing Filipinos services related to the internet at par with international standards. Now boasting of a more dynamic line-up of products and services, PLDT is still the country's leading communications provider.
About Admax Network
Admax Network, launched in 2006, is the largest online advertising network in Southeast Asia with offices in Indonesia, Malaysia, Philippines, Singapore, Thailand and Vietnam. Admax Network has over 3,200 of the top local and international websites in its network, making it easy for advertisers to reach their target audience online, and helping publishers to maximize their revenues through a range of display advertising products. For more information, please visit http://www.admaxnetwork.com.
###