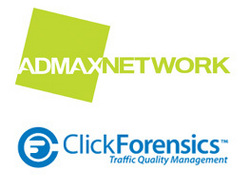 Our decision to adopt Click Forensics demonstrates our dedication to building a relationship based around trust and transparency with our publishers and advertisers, and our commitment to leading the industry in Southeast Asia in delivering the highest quality traffic
(PRWEB) August 31, 2009
Advancing security and building trust in ad networks in Southeast Asia, Admax Network a subsidiary of the DMS Group have announced its implementation of Click Forensics, the leading global click fraud prevention software.
The adoption of Click Forensics advanced system into Admax's proprietary Adrenaline platform demonstrates Admax's commitment to providing the most secure and transparent ad network in Southeast Asia, by fighting to eliminate the serious issues of invalid clicks and poor quality traffic.
With the break-neck growth of digital advertising in Southeast Asia, it is only natural that some growing pains have emerged. The two most notable of these issues facing advertisers and publishers are fraudulent clicks and poor quality traffic. While the overall industry average click fraud rate is at 12.7% globally according to Click Forensics, Southeast Asia's rate is significantly higher. It is no wonder that the region's digital advertising industry is particularly vulnerable to the phenomenon of 'invalid clicks'.
"Our decision to adopt Click Forensics demonstrates our dedication to building a relationship based around trust and transparency with our publishers and advertisers, and our commitment to leading the industry in Southeast Asia in delivering the highest quality traffic," says Grant Watts, CEO of the DMS Group.
Click Forensics provides trust and transparency for advertisers and publishers through its sophisticated traffic scoring, auditing and routing systems. The verification of a 3rd party audit ensures that the billing process is transparent for both advertisers and publishers. Every click, visitor and site is analyzed in detail, and scored on the basis of how likely it is to be fraudulent or invalid.
Advertisers' concerns over billing of invalid clicks and poor quality traffic will be reduced, resulting in an improved return on their advertising spending and overall more effective campaign results. Similarly, publishers will be able to improve monetization through more quality traffic and improved confidence in their product from an independent audit.
About Admax Network
Admax Network launched in 2006 is a subsidiary of Digital Marketing Solutions (DMS Group). It is the largest online advertising network in Southeast Asia with offices in Thailand, Malaysia, Singapore, Indonesia, Philippines and Vietnam. Admax Network combines over 1,200 of the top local and international websites, making it easy for advertisers to reach their target audience online, and helping publishers to maximize their revenues through a range of display advertising products. For more information, please visit "http://www.admaxnetwork.com".
About Click Forensics, Inc.
Click Forensics is the leading provider of PPC traffic quality management and click fraud prevention solutions that help online advertisers and publishers stop click fraud and improve search marketing campaigns. The company also publishes the Click Fraud Index™, the top independent source of industry click fraud data. Click Forensics is headquartered in Austin, Texas, and is privately held with funding from Sierra Ventures, Austin Ventures and Shasta Ventures. More information on Click Forensics and its offerings is available at http://www.ClickForensics.com.
###