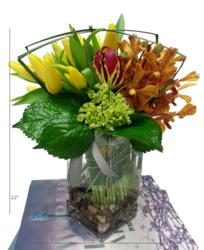 "We know that there are all types of budgets, but we think you should be able to say Thank You with any budget."
Austin, TX (PRWEB) March 31, 2013
With Administrative Professionals week approaching, King Florist in Austin, TX announces a special floral and gift collection geared to make gift giving easy for all the Bosses in Austin. Lynsey Reece, the manager at King Florist said; "We love this Holiday, it's all about thanking your Admin Pro for their hard work. The problem is sometimes the bosses don't remember until mid-week when gifts are arriving for other Admins at the office." To avoid this situation for their clients, the King Florist sales team will be sending out welcomed reminder calls and texts to clients that have subscribed to the Occasion Reminder service that King Florist offers.
The collection for Administrative Professionals week features a wide variety of floral designs and plants ranging from a small desk size design to more luxurious designs. Each design, no matter the size, is hand created with premium imported flowers and unique plants and orchids. "We know that there are all types of budgets, but we think you should be able to say Thank You with any budget." The King Florist team also offers a customized gift card addition to your floral gift. Reece said; "We decided to make packages available to clients who wanted to include a gift card to a local restaurant, spa etc. We will procure your gift card and deliver it with your floral gift."
Do you have several Administrative Professionals in your office? King Florist has you covered there too. Reece said; "We offer discounted delivery for anyone needing multiple deliveries to one office." As always, the King Florist team suggests that you book your delivery early, as space fills up quickly and is limited. To view the collection, visit http://www.kingflorist.com or call the team at 512-453-6633.
King Florist is a local flower shop in Austin, TX. Proudly serving clients since 1927. Their focus is premium floral product from all over the world, quality design from a world-class design team and stellar customer service to each and every client.